Research Article
Open Access
An Energy-Efficient MAC Protocol in Wireless Sensor Networks: A Game Theoretic Approach
EURASIP Journal on Wireless Communications and Networking
2010
2010:926420
Received: 30 October 2009
Accepted: 31 May 2010
Published: 24 June 2010
Abstract
Game Theory provides a mathematical tool for the analysis of interactions between the agents with conflicting interests, hence it is well suitable tool to model some problems in communication systems, especially, to wireless sensor networks (WSNs) where the prime goal is to minimize energy consumption than high throughput and low delay. In this paper, we use the concept of incomplete cooperative game theory to model an energy efficient MAC protocol for WSNs. This allows us to introduce improved backoff algorithm for energy efficient MAC protocol in WSNs. Finally, our research results show that the improved back off algorithm can improve the overall performance as well as achieve all the goals simultaneously for MAC protocol in WSNs.
Keywords
Wireless Sensor NetworkMedium Access ControlMedium Access Control ProtocolContention WindowContention Window Size
1. Introduction
Communication in wireless sensor networks is divided into several layers. Medium Access Control (MAC) is one of those layers, which enables the successful operation of the network. MAC protocol tries to avoid collisions by not allowing two interfering nodes to transmit at the same time. The main design goal of a typical MAC protocols is to provide high throughput and QoS. On the other hand, wireless sensor MAC protocol gives higher priority to minimize energy consumption than QoS requirements. Energy gets wasted in traditional MAC layer protocols due to idle listening, collision, protocol overhead, and overhearing [1, 2]. There are some MAC protocols that have been especially developed for wireless sensor networks. Typical examples include S-MAC, T-MAC, and H-MAC [2–4]. To maximize the battery lifetime, sensor networks MAC protocols implement the variation of active/sleep mechanism. S-MAC and T-MAC protocols trades networks QoS for energy savings, while H-MAC protocol reduces the comparable amount of energy consumption along with maintaining good network QoS. However, their backoff algorithm is similar to that of the IEEE 802.11 Distributed Coordinated Function (DCF), which is based on Carrier Sense Multiple Access with Collision Avoidance (CSMA/CA) Mechanism. The energy consumption using CSMA/CA is high when nodes are in backoff procedure and in idle mode. Moreover, a node that successfully transmits resets it Contention Window (CW) to a small, fixed minimum value of CW. Therefore, the node has to rediscover the correct CW, wasting channel capacity, and increase the access delay as well. So, during the CSMA/CA mechanism, backoff window size and the number of active nodes are the major factors to have impact on the network performance and over all energy efficiency of MAC protocol. Hence, it is necessary to estimate the number of nodes in network to optimize the CSMA/CA operation. Furthermore, optimizing CSMA/CA operation is more challenging task for self-organizing and distributed networks as there are no central nodes to assign channel access in sensor nodes.
In sensor networks, each node has a direct influence on its neighboring nodes while accessing the channel. So, these interactions between nodes and aforementioned observations lead us to use the concepts of game theory that could improve the energy efficiency as well as the delay performance of MAC protocol. More on this will be discussed in section two of this paper.
Recently lots of researchers have started using game theory as a tool to analyze the wireless networks. Their game theoretic approaches were proposed to the wide area of wireless communication right from the security issues to power control, and so forth, [5–8]. To model WSNs problems into full information game theoretic problems is an extremely difficult task due to distributed nature of WSNs. In addition, full information sharing also results into additional energy and bandwidth consumption. So, we use the concept of incomplete cooperative game theory to solve the aforementioned challenges. In this paper, we present the basic idea of adjusting nodes' equilibrium strategy based on estimation of network conditions without full information. More details on this will be discussed in later part of this paper. To the best of our knowledge, there is very little work on the incomplete cooperative game theory in wireless networks. In [9, 10], authors used the concept of incomplete cooperative game theory in wireless networks for first time and proposed the G-MAC protocol for the same. However, their proposed scheme is not suitable for all traffic conditions, especially, nonsaturation traffic condition which is most likely in sensor networks. In [11] authors presented a virtual CSMA/CA mechanism to handle the nonsaturation traffic condition which is too heavy and complex for the sensor networks.
We also work on similar baseline and present our suboptimal solution for an energy efficient MAC protocol in wireless sensor networks. In short, the main contributions of this paper are as follows.
(i)

To present an analytical model of energy efficient MAC protocol based on incomplete cooperative game theory.

(ii)

To present a suboptimal solution for energy efficient MAC protocol in WSN.

(iii)

To present a performance evaluation study for the proposed solution.
The rest of this paper is organized as follows. Game theory and the incomplete cooperative game are introduced in Section 2, respectively. In Section 3, we present an improve backoff algorithm to improve the energy efficiency of MAC protocol in WSNs. Finally, the concluding remarks and future works are given in Section 4.
2. Game Theory and Incomplete Cooperative Game
Game Theory is a collection of mathematical tools to study the interactive decision problems between the rational players (In rest of the paper, we keep using terms "node" and "player" interchangeably) (Here, it is sensor nodes). Furthermore, it also helps to predict the possible outcome of the interactive decision problem. The most possible outcome for any decision process is "Nash Equilibrium." A Nash equilibrium is an outcome of a game where no node (player) has any extra benefit for just changing its strategy one-sidedly [12, 13]. From last few years, game theory has gained a notable amount of popularity in solving communication and networking issues. These issues include congestion control, routing, power control, and other issues in wired and wireless communications systems, to name a few.
A game is set of three fundamental components: A set of players, a set of actions, and a set of preferences. Players or nodes are the decision takers in the game. The actions (strategies) are the different choices available to nodes. In a wireless system, action may include the available options like coding scheme, power control, transmitting, listening, and so forth, factors that are under the control of the node. When each player selects its own strategy, the resulting strategy profile decides the outcome of the game. Finally, a utility function (preferences) decides the all possible outcomes for each player. Table
1
shows typical components of a wireless networking game.
Table 1
A wirless networking game.
| Components of a game | Elements of a wireless network |
| --- | --- |
| Players | Nodes in the wireless network |
| A set of actions | A modulation scheme, transmit power level, and so forth. |
| A set of preferences | Performance metrics (e.g., Energy Efficiency, Delay, etc.) |
Games can be classified formally at many level of detail, here we ingeneral tried to classify the games for better understanding. As shown in Figure
1
, strategic games are broadly classified as cooperative and noncooperative games. In noncooperative games the player cannot make commitments to coordinate their strategies. A noncooperative game investigates answer for selecting an optimum strategy to player to face his/her opponent who also has a strategy of his/her own. Conversely, a co-operative game is a game where groups of player may enforce to work together to maximize their returns (payoffs). Hence, a co-operative game is a competition between coalitions of players, rather then between individual players. Furthermore, according to the players' moves, simultaneously or one by one, games can be further divided into two categories: static and dynamic games. In static game, players move their strategy simultaneously without any knowledge of what other players are going to play. In the dynamic game, players move their strategy in predetermined order and they also know what other players have played before them. So, according to the knowledge of players on all aspect of game, the noncooperative/co-operative game further classified into two categories: complete and incomplete information games. In the complete information game, each player has all the knowledge about others' characteristics, strategy spaces, payoff functions, and so forth, but all these information are not necessarily available in incomplete information game [
13
].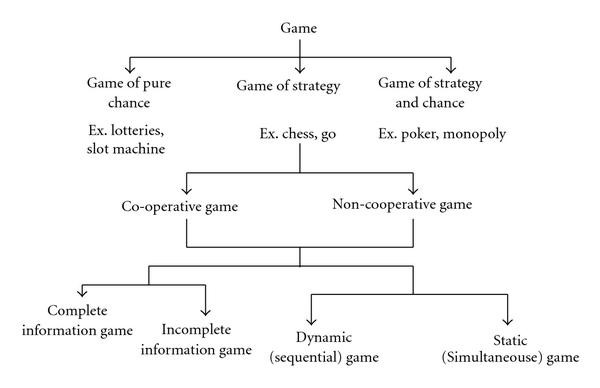 3. Improved Backoff
In this section, we briefly introduce the improved backoff (IB), for more details on the same readers are refered to [14]. This is very simple scheme to integrate with any energy efficient MAC protocols for WSNs. This method does not require any complex or hard method to estimate the number of nodes. Furthermore, IB can easily accommodate the changing dynamics of WSNs.
3.1. IB Mechanism
In contrast to traditional backoff scheme, IB scheme uses a small and fixed CW. In IB scheme, nodes choose nonuniform geometrically increasing probability distribution (

) for picking a transmission slot in the contention window. Nodes which are executing IB scheme pick a slot in the range of (1, CW) with the probability distribution

. Here, CW is contention window and its value is fixed. Figure
5
shows the probability distribution

. The higher slot numbers have higher probability to get selected by nodes compared to lower slot numbers. In physical meaning, we can explain this as: at the start node select a higher slot number for its CW by estimating large population of active nodes (

) and keep sensing the channel status. If no nodes transmits in the first or starting slots then each node adjust its estimation of competing nodes by multiplicatively increasing its transmission probability for the next slot selection cycle. Every node keeps repeating the process of estimation of active nodes in every slot selection cycle and allows the competition to happen at geometrically-decreasing values of

all within the fixed contention window (CW). In contrast to the probability distribution

, in uniform distribution, as shown in Figure
5
, all the contending nodes have the same probability of transmitting in a randomly chosen time slot. As we mentioned earlier, IB uses a truncated, increasing geometric distribution, as presented in [
14
], and is given by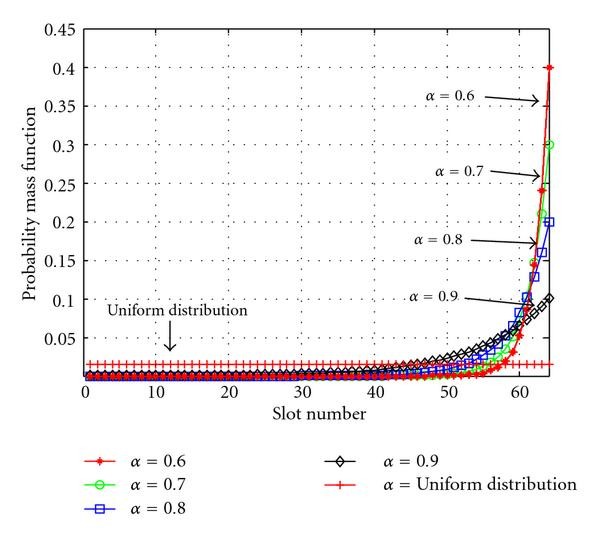 Here, it is worth to note that IB scheme does not use timer suspension like in IEEE 802.11 to save energy and reduce latency in case of a collision. The only problem with the IB is fairness, however, for WSNs, fairness is not a problem due to two main reasons. First, overall network performance is more important rather than an individual node. Second, all nodes do not have data to send all the time (i.e., unsaturated traffic condition). Using IB may give us the optimum network performance as it reduces the collision to minimum.
3.2. Analytical Modeling of IB
The first equation in (10) indicates the backoff counter which is decremented if the channel is sensed idle. The second equation in (10) indicates the node defers the transmission of a new frame and enters stage 0 of the backoff procedure if it detects a successful transmission of its current frame or finds the channel busy or if it detects that a collision occurred to its current not successfully transmitted frame. The third equation in (10) indicates the node selects a backoff interval nonuniformly in the range of (1, CW) following an unsuccessful transmission. Rest of the equations shows the transition probabilities for two extra sates we added. Here, we take

to introduce two extra states. The fourth equation in (10) represents the node waiting in the idle state for packet to arrive from the upper layer. The fifth equation in (10) shows the buffered packet enter to backoff procedure. The sixth and seventh equations in (10) represent the transition between buffer to idle state and back to buffer state according to availability of a packet, respectively. The last equation in (10) represents transition of backoff procedure to buffer state in case of a successful packet transmission.
3.3. Performance Evaluation
In this subsection we present, the performance comparison of incomplete cooperative game; that is, "Incomplete Game", our "considered" or "normal" MAC protocol, and IB-based MAC protocol in terms of channel efficiency, medium access delay, and energy-efficiency. The latter two protocols are the same in nature except for their backoff procedure. Here, we fixed the channel rate to 1 Mbps with an ideal channel condition. For the "normal" MAC protocol maximum retry limit is set to 6 (

), minimum contention window is set to 16 (also for the IB Based MAC), and traffic model is set to nonsaturation. The backoff algorithm (BA) performed in a time-slotted fashion. A node attempts to attain the access the channel only at the beginning of a slot. Furthermore, all nodes are well synchronized in time slots and propagation delay is negligible compared to the length of an idle slot. For the performance evaluation, we carried out simulation in Matlab.
Here, we define network load in terms of the number of nodes that are contending for the access medium. Another approach is to consider total arrival packet rate to the network as an offered load. The main parameters for our simulation are based on [18] and listed in Table 4. For calculating the energy consumption in nodes, we choose ratio of idle: listen: transmit as 1 : 1 : 1.5, as measured in [19]. For the simulation results we do not consider the technology adopted at the Physical layer, however the physical layer determines some network parameter values like interframe spaces. Whenever necessary, we choose the values of the physical layer dependent parameters by referring to [18]. In case of "Incomplete Game", we assume that each node estimates the game state timely and accurately by detecting the channel. The results obtained here are the average values of our collected data.
As we have described in previous section, channel efficiency is mostly depends on number of active nodes and contention window size. As shown in Figure
7
, at first "Normal MAC" (NM) gives high channel throughput at lower number of nodes. The reason is very obvious, less collision and low waiting time in backoff procedure, and as number of contenders increases channel throughput start decreasing. In contrast to NM, "IB-based MAC" (IBM) maintains high channel efficiency due to its unique quality of collision avoidance among the competing nodes. In IBM, most of the nodes choose higher contention slots while very few nodes selects lower contention slots, hence less or no collision and low waiting time in backoff procedure. For "Incomplete Game" channel efficiency almost keep constant after 30 nodes, as each node can adapt to the variable game state and choose corresponding equilibrium strategy. At start, it shows lower channel efficiency because contention window is still too big for given number of nodes.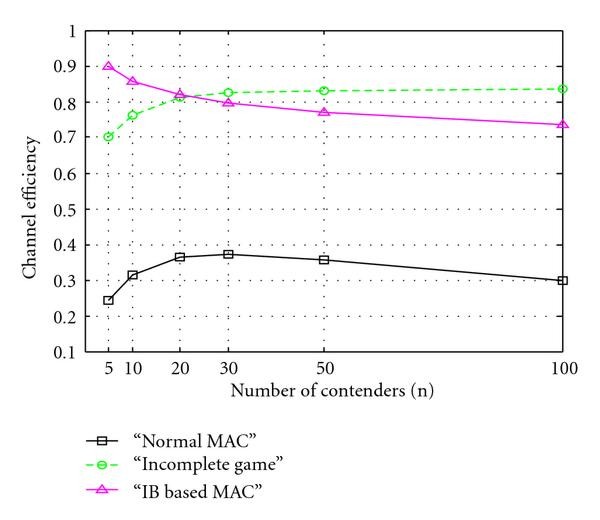 Figure
8
shows the average medium access delay performances of NM, Incomplete Game and IBM. Here, medium access delay is defined as the time elapsed between the generation of a request packet and its successful reception. In NM scheme, as a large number of stations attempt to access the medium, more collision occurs, the number of retransmissions increases and nodes suffer longer delays. In IBM, as we expected access delay is very low compared to NM. This is because of low or no collision and less idle waiting time in backoff procedure. In "Incomplete Game", access delay performance is far better than "NM", and comparable with "IBM", as it can easily adapt the variable game state and choose the corresponding equilibrium strategy by adjusting contention window according to number of nodes.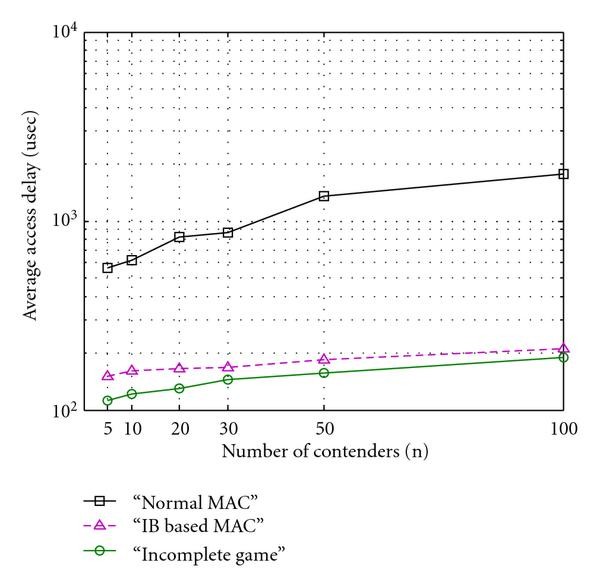 Figure
9
illustrates the impact of CW on energy efficiency of NM, incomplete game, and IBM schemes. Here we define the energy efficiency as energy required to successfully transmit one bit of data packet.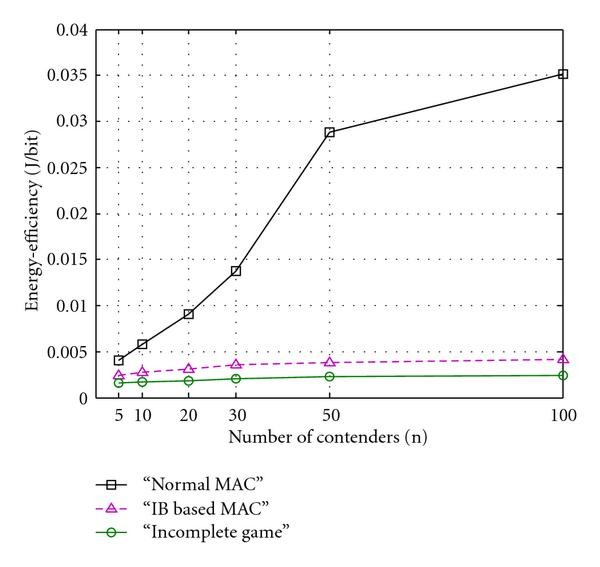 From Figure 9, we can see that as number of nodes increases NM scheme waste more energy due to increase in collision and retransmission attempts. In contrast, IBM wastes very less energy due to its unique characteristics of collision avoidance. Similarly, "Incomplete Game" can also give the comparative performance to IBM, as it also reduces collision by adjusting its equilibrium strategy. Here it is worth to note that during the "Incomplete Game" all the nodes will switch to sleep mode when there is no communication. From all aforementioned results, we can see the superiority of IBM over NM. Accepting IBM as backoff scheme can increase the overall performance of an energy efficient MAC protocol to a large extends and we can also get the suboptimal solution for an incomplete cooperative game.
3.4. Applicability and Extendibility of the Incomplete Game
In this paper, we use the concept of incomplete cooperative game to improve the performance of a WSN MAC protocol. Using the presented method here we can formulate a game for dynamic duty cycle adjustment in wireless sensor networks. With a proper fairness mechanism, it is also possible to extend our scheme to general wireless networks (i.e., IEEE 802.11). Furthermore, it is possible to extend our scheme to answer the selfish behavior of a node in IB and erroneous channel conditions as well.
4. Conclusions
In this paper, we used the concept of incomplete cooperative game to model the WSN MAC protocol for energy-efficient design. Moreover, we introduced IB for an energy-efficient MAC protocol in WSNs. It is very easy to implement in WSNs and also we do not need any complex estimation algorithm to calculate the number of nodes in the network. From the results, it is clear that IB can provide a suboptimal solution to an incomplete cooperative game.
Declarations
Acknowledgments
The authors would like to express their sincere thanks to the anonymous reviewers for their insightful comments that helped in improving the quality and presentation of this paper. This work was supported by the National Research Foundation of Korea (NRF) grant funded by the Korea government (MEST) (No. 2010-0018116).
Authors' Affiliations
(1)
UWB Wireless Communications Research Center, Inha University, Incheon, Republic of Korea
Copyright
© S. Mehta and K. S. Kwak. 2010
This article is published under license to BioMed Central Ltd. This is an open access article distributed under the Creative Commons Attribution License, which permits unrestricted use, distribution, and reproduction in any medium, provided the original work is properly cited.