Sequence-order-independent network profiling for detecting application layer DDoS attacks
EURASIP Journal on Wireless Communications and Networking
2011
2011:50
Received: 18 November 2010
Accepted: 1 August 2011
Published: 1 August 2011
Abstract
Distributed denial of service (DDoS) attacks, which are a major threat on the Internet, have recently become more sophisticated as a result of their ability to exploit application-layer vulnerabilities. Most defense methods are designed for detecting DDoS attacks on IP and TCP layers and consequently have difficulty in detecting this new type of DDoS attack. With the profiling of web browsing behavior, the sequence order of web page requests can be used for detecting the application-layer DDoS (App-DDoS) attacks. However, the sequence order may be more harmful than helpful in the profiling of web browsing behaviors because it varies significantly for different individuals and different browsing behaviors. This article introduces a sequence-order-independent method for the profiling of network traffic and the detection of a new type of App-DDoS attacks. Four attributes are extracted from web page request sequences without consideration of the sequence order of requested pages. A model based on the multiple principal component analysis is proposed for the profiling of normal web browsing behaviors, and its reconstruction error is used as a criterion for detecting DDoS attacks. The proposed method is experimentally confirmed with various types of new App-DDoS attacks.
Keywords
Reconstruction Error
Attribute Vector
Principal Component Analysis Model
Normal Traffic
Defense Method
1. Introduction
Distributed denial of service (DDoS) attacks have become a major threat and one of the hardest problems to overcome on the Internet. Various activities, such as telecommunication, online banking, and online shopping, have recently been integrated through the Internet, yet the Internet is now plagued by more than 10 million infected hosts (or zombies) [1]. DDoS attacks have consequently become a serious threat.
DDoS attacks traditionally exploit the vulnerabilities of a network layer, particularly SYN flooding, UDP flooding, and ICMP flooding. These attacks exhaust the network bandwidth and resources of the victim; so that legitimate access is denied. Although many studies have developed defense methods, sophisticated DDoS attacks can now overcome these methods.
One recent sophisticated DDoS attack is called an application-layer DDoS (App-DDoS) attack [2]. Unlike conventional DDoS attacks, this type of attacks exploits vulnerabilities at the application layer rather than at the network layer. App-DDoS attacks send small packets of legitimate content via normal successful TCP connections; no spoofed IP address with standard services such as HTTP and HTTPS. Thus, the DDoS defensive methods mistakenly regard App-DDoS attacks as normal connections. Furthermore, App-DDoS attacks are similar to a flash crowd event, which happens when massive numbers of normal users simultaneously send requests to one web server [3]. Hence, it is difficult to distinguish App-DDoS attacks from legitimate normal traffic.
There are several DDoS defense methods that utilize application-layer information. Ranjan et al. [4] analyzed time-related characteristics of HTTP sessions, such as session inter-arrival time, request inter-arrival time, and session arrival time. Yatagai et al. [5] presented a method that analyzes the correlation between browsing time and page information size. However, time-related features are insufficient to detect App-DDoS attacks because attackers can easily control packet-sending rates by utilizing a large-scale botnet [6]. On the other hand, Kandula et al. [7] developed a system that protects a web server from DDoS attacks by implementing a probabilistic authentication method using CAPTCHAs, but the task of requiring users to solve graphic puzzles causes additional service delays. As a result, the graphic puzzles cause annoying legitimate users as well as act as another DDoS attack point.
For the detection of App-DDoS attacks, Xie et al. [8] used a hidden semi-Markov model (HsMM) to describe the normal browsing behavior of web users. The HsMM uses the sequence order of web page requests to profile normal web browsing behavior. To detect App-DDoS attacks, they defined a normality threshold and compared it with the model's output values of incoming users. However, the sequence-order-based method can be complex and may cause many false alarms. The sequence order might vary significantly for different individuals and for different browsing behaviors. For example, web users can directly type URLs to request resources or utilize external web links. Furthermore, they can browse the resources of the web server with multiple browsers, possibly causing changes in the relative sequential positions.
In this article, we propose a sequence-order-independent method that distinguishes App-DDoS attacks from normal traffic. We regard the sequence order as a kind of noise rather than good information. We first extract the sequence-order-independent informative attributes from web page request sequences; these attributes represent a web user's activeness, pages of interest, and the breadth and intensity of their interest. We describe them in a matrix and use multiple principal component analysis (PCA) to model the browsing patterns. We then use the reconstruction error of the multiple PCA as a criterion for distinguishing App-DDoS attacks from normal usage.
This article is organized as follows. In Section 2, we describe App-DDoS attacks. In Section 3, we propose a new App-DDoS detection method that includes new sequence-order-independent attributes and a multiple PCA model. In Section 4, we validate our detection model with real traffic and discuss an early warning system. Finally, in Section 5, we present our conclusions.
2. App-DDoS Attacks
App-DDoS attacks exploit victim servers by exhausting the resources such as sockets, CPU, memory, and disk bandwidth. According to [9], server resources may become the bottleneck of the Internet applications. App-DDoS attacks are also launched on mobile devices, such as smart-phones and ubiquitous sensors, because they require few resources in the client side. Thus, App-DDoS attacks cause more serious problems than in the past.
Figure
1
shows an example of an App-DDoS attack. The attacker first exploits a popular web server, the worm distribution server, to insert malicious codes. It causes web users to download malicious codes and makes their hosts become infected. When the attacker begins an attack via the command server, an excessive number of infected hosts make requests for web pages from the victim; as a result, the victim's resources are eventually exhausted.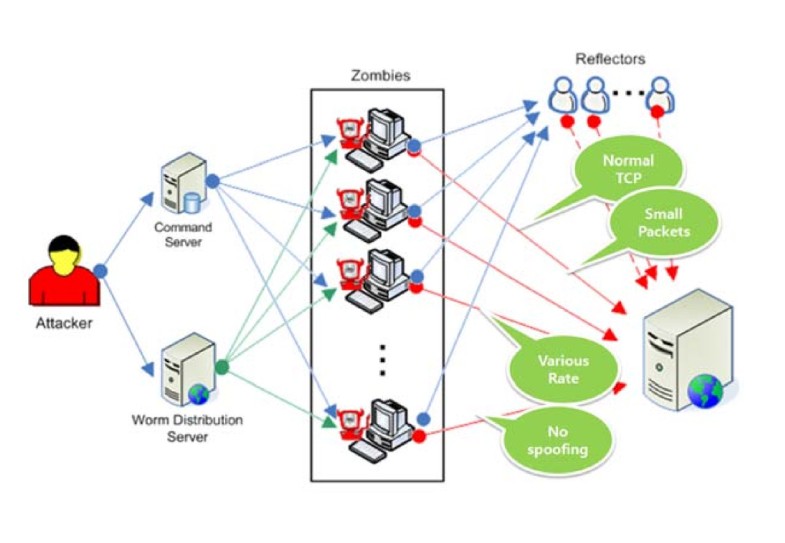 One of the differences between conventional DDoS and App-DDoS attacks is that App-DDoS attacks utilize only legitimate methods instead of vulnerabilities of protocols. App-DDoS attacks usually send small packets via successful TCP connections, and real IP addresses thus are used to launch attacks. In particular, App-DDoS attacks send packets through standard services such as HTTP and HTTPS. Moreover, these packets are generated with various sending rates to mimic legitimate users. Thus, these application-layer requests are indistinguishable from those generated by legitimate users.
3. Proposed method
In this section, we propose a defensive method that can be used for detecting an App-DDoS attack. We show how to represent a set of web browsing behaviors using sequence-order-independent attributes instead of web page request sequences. We then present a multiple PCA model to profile normal web browsing patterns and distinguish App-DDoS attacks. Since DDoS attack detection systems are required to handle an extremely large volume of traffic, we base our description of the web browsing patterns on PCA instead of nonlinear methods such as kernel methods and manifold learning [10, 11].
4. Experimental results and analysis
5. Conclusion
The focus of this article is on detecting App-DDoS attacks. We proposed a new model that utilizes sequence-order-independent attributes rather than the web page sequence order. The model consists of multiple PCAs so that complex browsing behaviors are given maximal consideration. Requiring only the weblog and the simplest of computations, the proposed method is practical and efficient for detecting App-DDoS attacks in real environments. To reliably validate our model, we generated three types of App-DDoS attacks. Our method detects App-DDoS attacks with an averaged DR of 86.7% and an averaged FPR of 4.5% when the error threshold is set at μ + 2.5σ. These values demonstrate that the proposed method can effectively describe a web user's browsing behavior and detect App-DDoS attacks. In addition, the proposed model has the capability of acting as an early warning system. Future research will focus on efficient updates and automatic learning algorithms, so that we can develop a defense method with online updates.
Abbreviations
App-DDoS:

application-layer DDoS
DDoS:

distributed denial of service
DR:

detection rate
FPR:

false positive rate
HsMM:

hidden semi-Markov model
KAIST:

Korea Advanced Institute of Science and Technology
PCA:

principal component analysis
ROC:

receiver operating characteristic.
Declarations
Acknowledgements
This research was supported by the MKE (Ministry of Knowledge Economy), Korea, under the ITRC (Information Technology Research Center) support program supervised by the NIPA (National IT Industry Promotion Agency) (NIPA-2010-C1090-1031-0005).
Authors' Affiliations
(1)
Department of Industrial and Systems Engineering, Korea Advanced Institute of Science and Technology, Daejeon, Republic of Korea
(2)
Graduate School of Information Security, Korea Advanced Institute of Science and Technology, Daejeon, Republic of Korea
References
Calculating the size of the downadup outbreak--F-secure weblog: news from the Lab2009. [http://F-secure.com]
Xie Y, Yu S-Z: Monitoring the application-layer DDoS sttacks for popular websites. IEEE/ACM Trans Netw 2009, 17(1):15-25.View ArticleGoogle Scholar
Chen X, Heidemann J: Flash crowd mitigation via adaptive admission control based on application-level observations. ACM Trans Internet Technol 2005, 5(3):532-569. 10.1145/1084772.1084776View ArticleGoogle Scholar
Ranjan S, Swaminathan R, Uysal M, Nucci A, Knightly E: DDoSshield: DDoS-resilient scheduling to counter application layer attacks. IEEE/ACM Trans Netw 2009, 17(1):26-39.View ArticleGoogle Scholar
Yatagai T, Isohara T, Sasase I: Detection of HTTP-GET flood attack based on analysis of page access behavior. Proceedings IEEE Pacific RIM Conference on Communications, Computers, and Signal Processing 2007, 232-235. art. no. 4313218Google Scholar
Shevtekar A, Ansari N: Is it congestion or a DDoS attack? IEEE Commun Lett 2009, 13(7):546-548.View ArticleGoogle Scholar
Kandula S, Katabi D, Jacob M, Berger AW: Botz-4-Sale: surviving organized DDoS attacks that mimic flash crowds. NSDI'05 [http://www.usenix.org/events/nsdi05/tech/kandula/kandula.pdf]
Xie Y, Yu S-Z: A large-scale hidden semi-Markov model for anomaly detection on user browsing behaviors. IEEE/ACM Trans Netw 2009, 17(1):54-65.View ArticleGoogle Scholar
Ranjan S, Karrer R, Knightly E: Wide area redirection of dynamic content by internet data centers. Proc IEEE INFOCOM 2004, 816-826.Google Scholar
Amari S, Wu S: Improving support vector machine classifiers by modifying kernel function. Neural Netw 1999, 12(6):783-789. 10.1016/S0893-6080(99)00032-5View ArticleGoogle Scholar
Zhao D: Formulating LLE using alignment technique. Pattern Recogn 2006, 39(11):2233-2235. 10.1016/j.patcog.2006.05.007View ArticleMATHGoogle Scholar
Hartigan JA, Wong MA: A k-means clustering algorithm. J R Stat Soc Ser C (Appl Stat) 1979, 28(1):100-108.MATHGoogle Scholar
Hu J, Xiong C, Shu J, Zhou X, Zhu J: A novel text clustering method based on TGSOM and fuzzy K-means. Proceedings of the 1st International Workshop on Education Technology and Computer Science, ETCS 2009, 1: 26-30. art. no. 4958717Google Scholar
Ji J, Chan TYT, Zhao Q: Comparative advantage approach for sparse text data clustering. Proceedings - IEEE 9th International Conference on Computer and Information Technology, CIT 2009, 1: 3-8. art. no. 5329159Google Scholar
Duda RO, Hart PE, Stork DG: Pattern Classification. Wiley; 2000.MATHGoogle Scholar
Lee S, Sung J, Kim D: Incremental update of linear appearance models and its application to AAM: incremental AAM. Lecture Notes Comput Sci 2007, 4633: 538-547. 10.1007/978-3-540-74260-9_48View ArticleGoogle Scholar
Copyright
© Lee et al; licensee Springer. 2011
This article is published under license to BioMed Central Ltd. This is an Open Access article distributed under the terms of the Creative Commons Attribution License (http://creativecommons.org/licenses/by/2.0), which permits unrestricted use, distribution, and reproduction in any medium, provided the original work is properly cited.