An overview of topology control mechanisms in multi-radio multi-channel wireless mesh networks
EURASIP Journal on Wireless Communications and Networking
2012
2012:324
Received: 27 April 2012
Accepted: 3 October 2012
Published: 29 October 2012
Abstract
Abstract
Wireless mesh network (WMN) is a key technology for supporting a variety of application scenarios. Recently, it evolves toward a multi-radio multi-channel (MR-MC) WMN architecture, which can improve network performance by equipping each node with multiple radio interfaces and by using multiple non-overlapping channels. This evolution poses new challenges on network design. Specifically, topology control (TC), one of the fundamental research topics in WMNs, has also received extensive attention in MR-MC WMNs. This article presents an overview of TC mechanisms in the existing literature with emphasis on the mutual dependence of TC on other networking issues such as power control, channel assignment, routing, and directional antennas.
Keywords
Power ControlChannel AssignmentWireless Mesh NetworkDirectional AntennaTopology Control
Introduction
Wireless mesh networks (WMNs), with multiple hops and mesh topology, has been evolved as a key technology for a variety of application scenarios including broadband home networking, community and neighborhood networking, enterprize networking, and metropolitan area networking [
1
]. As illustrated in Figure
1
, the general architecture of WMNs is composed of three distinct wireless network elements: mesh gateway (mesh routers with gateway/bridge functionalities), Mesh routers (access points) and Mesh Clients (mobile or others). Mesh clients connect to mesh routers using a wireless or a wired link. Every mesh router performs relaying of data for other mesh routers, and certain mesh routers also have additional capability of being Internet gateways. Such gateway routers often have a wired link which carries the traffic between the mesh routers and the Internet.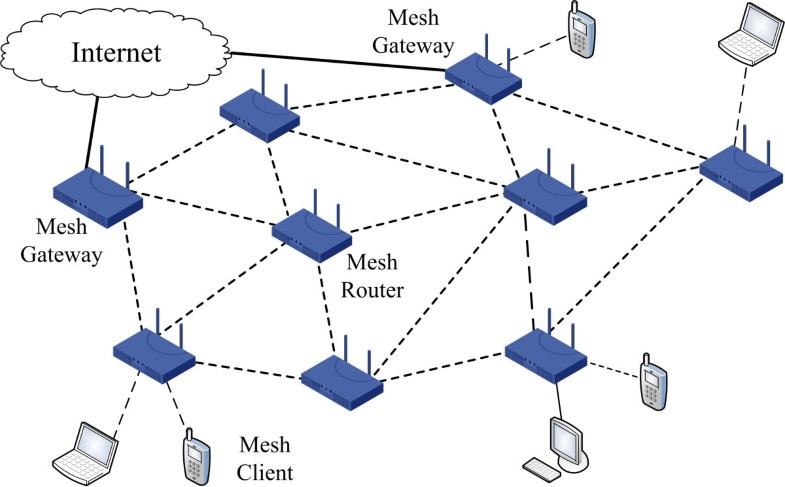 The WMNs have attractive advantages such as self-organization, self-healing, self-configuration, enabling quick deployment, easy maintenance, and cost effectiveness. The WMNs inherit almost all characteristics of more general wireless ad hoc networks (e.g., decentralized design, distributed communications). Nevertheless, unlike the mobility of ad hoc nodes, mesh routers are usually fixed. Therefore, ad hoc networks are often energy-constrained, and energy efficiency is an important design target. On the other hand, mesh routers have no limitations regarding energy consumption.
Traditional WMNs operate in single-radio single-channel (SR-SC) architecture where each mesh router has only one network interface card (NIC) and all the mesh routers share one common radio channel. In such a networking scenario, the network suffers from low throughput and capacity due to packet collisions and frequent backoffs, especially for real-time applications such as VoIP transmission across multihop WMNs [2, 3]. In fact, the IEEE 802.11b/g bands and the IEEE 802.11a band provide 3 and 12 non-overlapping frequency channels, respectively. Though there exists significant interference between these standard non-overlapping channels in the current commodity IEEE 802.11 hardware, this problem can be resolved by using better frequency filters in hardware for multi-channel use. Hence, the use of single-radio multiple-channels (SR-MC) has been proposed to elevate the performance of WMNs [4, 5]. Compared with the SR-SC architecture, the SR-MC architecture can help to alleviate the interference and increase network throughput. A required function of the SR-MC solutions is for each router to dynamically switch between channels with dynamic network traffic, while coordinating with neighboring nodes to ensure communication over a common channel for some period. However, such coordination is usually based on tight time synchronization among nodes, which is difficult to realize in a multihop WMN. Moreover, fast channel switching capability (in the order of 100 μs) is not yet available with commodity hardware. It is reported that the latency in switching the channels with the use of commodity hardware 802.11 NICs can be up to 100 ms [6, 7].
An effective solution to overcome high latency and at the same time improve throughput of WMN would be using a Multi-Radio Multi-Channel (MR-MC) architecture. In such a solution, each mesh router is equipped with multiple NICs and each NIC can operate on multiple frequency channels. With MR-MC architecture, multiple transmissions/receptions can happen concurrently, and neighboring links assigned to different channels can carry traffic free of interference. However, the use of MR-MC architecture poses various new issues. In general, these issues include topology control, power control, channel assignment, link scheduling, and routing. Among them, the issue of topology control (TC) has received extensive attention. TC is one of the fundamental research topics in WMNs. When designed properly, it can help to improve the operation of WMNs on connectivity, energy efficiency, mobility resilience, network capacity increase, interference reduction, etc. In MR-MC WMNs, TC is mutually dependent on power control, channel assignment, and routing, which poses new design challenges on its design.
Therefore, we focus on the TC-related issues for MR-MC WMNs in this article and present an in-depth overview of typical TC mechanisms in the literature. The rest of the article is organized as follows. Section 'Multi-radio multi-channel (MR-MC) WMNS' discusses the technology of MR-MC WMNs. In Section 'Challenges on topology control in MR-MC WMNS', we describe the challenges on TC facing in MR-MC WMNs. Section 'Review: Topology control mechanisms for MR-MC WMNS' describes and compares main TC-related mechanisms that have been proposed in the existing literature. Section 'Future research directions' presents future research directions. Finally, Section 'Conclusions' concludes this article.
Multi-radio multi-channel (MR-MC) WMNS
In MR-MC WMNs, each mesh router is equipped with multiple NICs and each NIC can operate on multiple frequency channels. In the experimental MC-WMN test-beds in [
6
,
8
], each mesh router is equipped with two NICs. Providing up to four NICs is also considered reasonable [
6
,
9
]. Figure
2
illustrates an example of an MR-MC WMN with six wireless mesh routers, three NICs per router, and five frequency channels. The label number indicates the assigned channels that are reused spatially.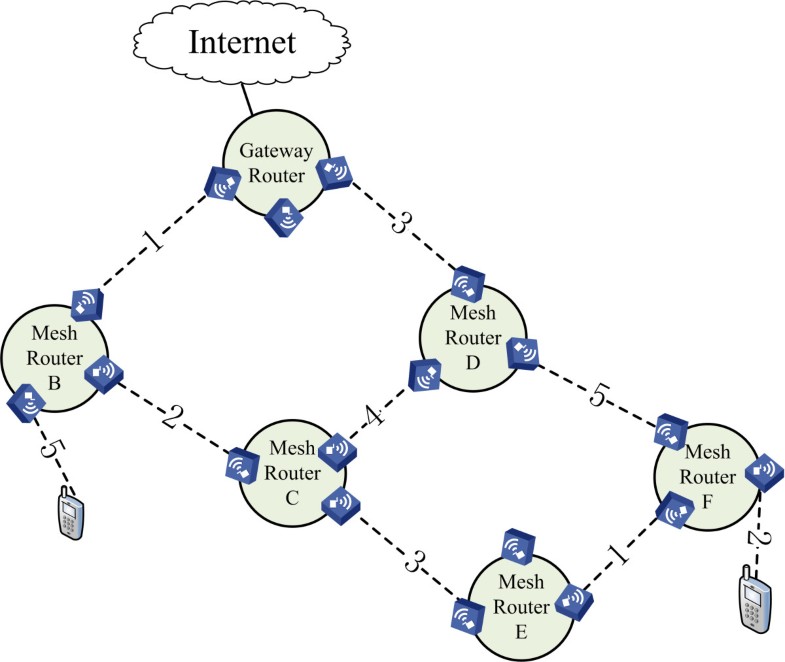 The MR-MC solution has attracted a lot of attention with the benefits of interference reduction and network scalability improvement in wireless mesh networks. Nevertheless, the MR-MC model also poses technical issues to be dealt with [10]. As mentioned before, the number of available channels is limited to 3 or 12 within the IEEE 802.11 frequency bands. This implies that some logical links may be assigned the same channel. In this case, interference occurs if these logical links are close to each other, and hence the interfering links cannot be active simultaneously. Furthermore, the number of available NICs is also limited, and hence some logical links in a router need to share a NIC to transmit and receive the data packets. When two logical links in a router share a NIC, they are required to operate over the same frequency channel, and cannot be active simultaneously. Thus, it significantly reduces their effective capacity. The effective link capacity can be increased by removing some of the links from the logical topology. However, when some of the links are not activated, the number of hops through some routing paths may be increased, and the logical topology may not even be connected. Therefore, how many logical links should be assigned between neighboring routers, how to allocate interfaces and channels, and through which logical links should the packets be forwarded need to be considered in MR-MC WMNs.
Furthermore, given the physical topology of the routers and other constraints in MR-MC WMNs, four important issues that need to be addressed are summarized in [10], i.e., logical topology formation, interface assignment, channel allocation, and routing. Logical topology determines the set of logical links and network connectivity. Interface assignment decides how the logical links should be assigned to the NICs in each wireless router. Channel allocation selects the operating channel for each logical link. Finally, routing determines through which logical links the packets should be forwarded.
Considering the above issues with the MR-MC architecture, existing communication protocols, ranging from routing, MAC, and physical layers, need to be revisited and enhanced.
In physical layer, techniques mainly focus on three research directions: increasing transmission rate, improving error resilience capability, and enhancing reconfigurability and software controllability of radios [11]. In order to increase the capacity of wireless networks, various high-speed physical techniques, such as OFDM, UWB, and MIMO, have been invented. To improve error resilience, many channel coding schemes have been developed, and adaptive channel coding schemes and cognitive radios are considered to utilize the wireless spectrum much efficiently. In MR-MC WMNs, the cost of wireless radios with multiple transceivers is still very high, thus it is necessary to optimize the hardware design so as to reduce the cost. Moreover, directional antennas have been considered to be used for MR-MC systems. Besides these, power control is another interesting aspect that should be thoroughly investigated, since assigning optimal power for controlling the topology can reduce interference and in turn help improving overall network performance.
In MAC layer, depending on which network node takes care of the coordination of medium access, MAC can be classified into two major types: centralized MAC and distributed MAC. In WMNs, due to its distributed essence, distributed MAC is preferred. The MAC protocols for WMNs can be classified into two categories: single-channel and multi-channel MAC protocols [12, 13]. Designing an efficient distributed multi-channel MAC protocol for MR-MC WMNs is a much more challenging task. In MR-MC WMNs, although many channel assignment algorithms were proposed, intelligent channel assignment should be designed for efficient spectrum utilization and maintaining the targeted topology.
In routing layer, the routing protocols developed for ad hoc networks can usually be applied to WMNs, but the design of routing protocols for WMNs is still an active research area. To select a routing path in WMNs, the routing algorithm needs to consider network topology, and the routing path selection is intertwined with resource allocation, interference avoidance and rate adaptation across multiple hops. An MR-MC routing protocol not only needs to select a path in between different nodes [13], but it also needs to select the most appropriate channel or radio on the path. The routing algorithms should not only enable selection of high-throughput links with low end-to-end delay, but also ensure minimal interference between neighboring nodes. Hence, MAC/routing cross-layer design and joint optimization are indispensable for an MR-MC WMN [14].
Challenges on topology control in MR-MC WMNS
The problem of TC has been studied extensively for wireless ad hoc networks, and there are two books dedicated for the subject of TC for wireless ad hoc and sensor networks [
15
,
16
]. These two books mainly talk about TC mechanisms for SR-SC wireless ad hoc network. In the book written by Paolo Santi [
15
], TC is viewed as an additional protocol layer positioned between the routing and MAC layer in the protocol stack as shown in Figure
3
. The routing layer is responsible for finding and maintaining the routes between source/destination pairs in the network, and for forwarding packets toward the destination at the intermediate nodes on the route. Two-way interactions may happen between the routing protocol and TC protocol. The TC protocol, which creates and maintains the list of the immediate neighbors of a node, can trigger a route update in case it detects that the neighbor list is considerably changed, and hence lead to a faster response time to topology changes and to a reduced packet-loss rate. On the other hand, the routing layer can trigger the reexecution of the TC protocol in case it detects many route breakages in the network. Furthermore, the author believes the task of setting transmit power levels should be performed by the TC layer to take advantage of its networkwide perspective. On the other hand, the MAC layer can trigger reexecution of the TC protocol in case it discovers new neighbor nodes by overhearing the network traffic and analyzing the message headers. The interactions between MAC and TC ensure a quick response to changes in the network topology.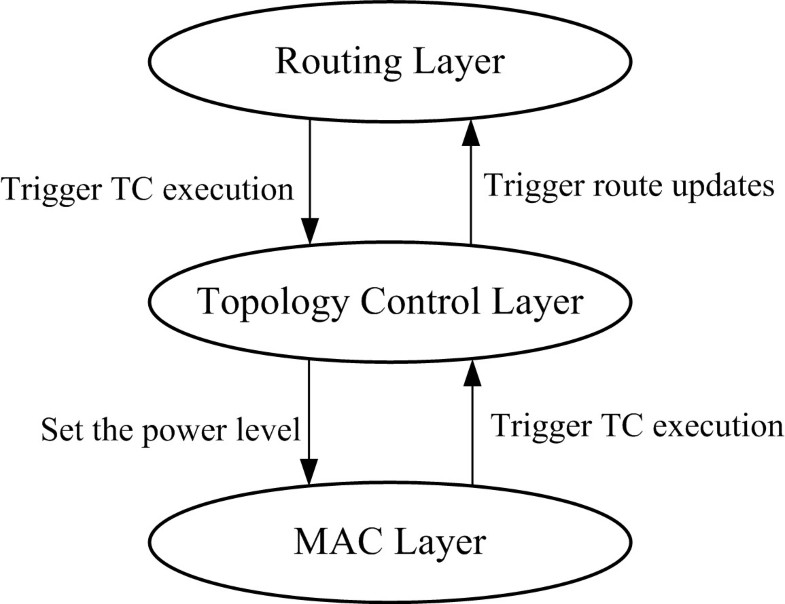 Existing works on TC in WMNs generally can be classified to centralized and distributed approaches [16]. The centralized TC algorithms have a central server that performs periodically information collection and adaptation. However, the scalability of such approach may be an issue. Given large number of nodes (e.g., hundreds of nodes), in conjunction with even only a reasonable set of interfaces per node and limited number of channels in the network, the information of the entire network to be transferred is astronomical. Correspondingly, distributed TC algorithms have no use of the central server, in which each node controls the topology by using local information.
The problem of TC has been studied extensively for wireless ad hoc networks [17, 18], and power control is the main approach to construct interference optimal topologies through careful tuning of the node transmit power.
In MR-MC WMN, besides power control (PC), TC is interlinked with channel assignment (CA) in many ways. In addressing the connectivity issue in MR-MC WMNs, the CA decisions can actually change the network topology, which is a key difference between the SR-MC networks. The problem of TC in MR-MC WMNs has implicitly been addressed in conjunction with CA [4, 19, 20]. Hence, both of PC and CA have a direct impact on the topology of MR-MC WMN. When design TC mechanisms, it is a challenge to allocate transmitting power levels and orthogonal channels to every interface of nodes efficiently with the purpose of reducing the effect of interference and maintaining the connectivity of the entire network.
In addition, routing is another key technology that should be taken into account on TC mechanisms. In MR-MC WMNs, TC, CA, and routing might be coupled together. The network topology of an MR-MC WMN can be changed by the CA decisions. Accordingly, the routing decisions need to be updated. Thus, routing is dependent on TC and CA. On the other hand, routing can change the traffic load distribution in the network, which is a primary factor considered by traffic-aware CA to reduce the interference dynamically. Actually, some joint TC and routing protocols have been proposed recently [10, 21, 22]. The results of them show that the joint optimization measures enhance the performance of the entire network significantly. Thus, how to jointly optimize TC, CA, and routing is also a challenge that must be dealt with.
Based on the above discussion, we believe that it is better to view TC as a management functional block in connection with the protocol stack in MR-MC WMNs shown in Figure 4. For the TC functional block, the inputs, the objectives of outputs, and the TC methods (techiniques) are the three characterizing aspects within each category of TC algorithms. A TC mechanism may consider some, if not all, of the following parameters as the inputs.
Node deployment: the geometric position of each node in the network.

Numbers of NICs and channels: the number of radios (NICs) at each node and the number of non-overlapping channels available at each radio.

Power profile: power level and maximum power limit at each node.

Type of antenna: omnidirectional or directional antenna pattern at each node.

Link and traffic profile: the bandwidth of each link and the end-to-end traffic rate of each flow.

Connectivity and topology constraint: the level of network connectivity and type of topology (rooted-tree, graph, hierarchical topologies) to be achieved.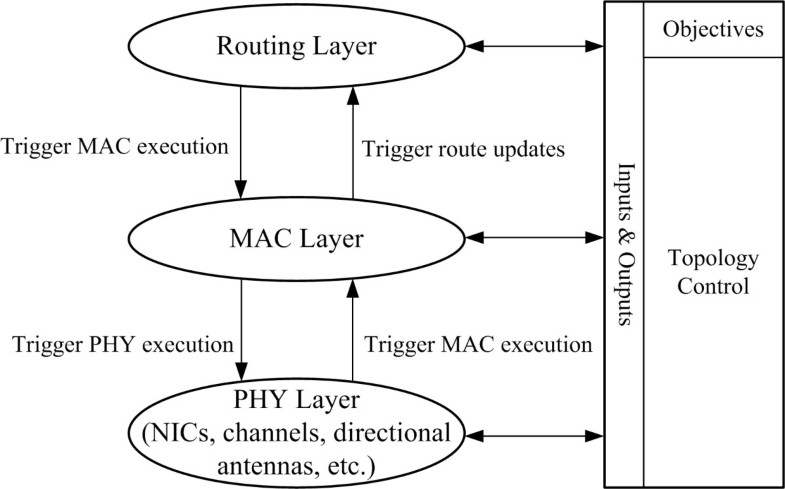 The typical objective of outputs is to maximize the overall throughput, while others aim to minimize the overall interference, keep required connectivity, improve energy efficiency, etc. Since TC, PC, CA, and routing are mutually dependent in MR-MC WMNs. The outputs of TC functional block may include all (or some) TC, PC, CA, and routing decisions when they are jointly optimized.
Review: Topology control mechanisms for MR-MC WMNS
In this section, we describe TC mechanisms for MR-MC WMNs in the existing literature. During the discussion, the mutual dependence of TC on power control, channel assignment, routing and directional antennas in MR-MC WMNs is emphasized. In other words, the described mechanisms are either directly part of the TC procedure, or act closely to the TC function.
Future research directions
As we argued in this article, topology control are coupled together with PC, CA, and routing functions, and it is better to view TC as a management functional block in connection with protocol layers in MR-MC WMNs. This methodology has been demonstrated by many published works with joint optimization of some or all the functions. A unified framework combining all mutually dependent functions is more desirable for MR-MC WMNs. We are expecting to see further exploration of this subject with such a methodology. Joint optimization approach following this methodology can give theoretical understanding of the holistic solution for the TC problem, and we believe that suboptimal heuristic and coordination schemes need to be investigated with reduced complexity for practical realization with such a methodology.
Current research efforts for evaluating the proposed mechanism are mainly based on theoretical performance characterization and simulation modeling, another direction for verifying proposed mechanisms needs further conducting real-world performance evaluation in MR-MC WMN testbed. The real experimental testing may exhibit more issues that are simplified or ignored in theoretical analysis or simulation modeling. The potential issues need to be addressed include the external interference, channel switching time, nonuniform directional antenna patterns, diverse and mixed traffics, and more QoS constraints.
Conclusions
With the growth demand of deployment and advance of wireless technologies, the MR-MC WMN architecture has been started to be adopted as a promising solution. To fully exploit its advantages on improved network performance, new design and operation challenges need to be dealt with. With such a networking architecture, it turns out that many network operations, such as topology control, power control, channel assignment, and routing, are coupled together. We argue that it is better to view TC as a management functional block in connection with protocol layers in MR-MC WMNs. In our survey, this methodology is demonstrated by many published studies with joint optimization of some or all the functions of topology control, power control, channel assignment, and routing. It needs to point out that such a joint optimization approach often leads to NP-hard complexity and hence suboptimal heuristic mechanisms with reduced complexity have been investigated. Considering all envisaged applications, MR-MC WMNs appear to have unprecedented and as yet unrealized potentials. With the recent and future research efforts, a unified framework combining all mutual dependent functions is more desirable for MR-MC WMNs. We are expecting to see further exploration of this subject with such a methodology.
Declarations
Acknowledgements
This article was supported by the National Natural Science Foundation of China under Grant No. 61062006, the Fundamental Research Funds for the Central Universities under Grant No. G470427, and the Natural Science Foundation of Hainan Province, China under Grant No. 610215.
Authors' Affiliations
(1)
School of Electronic Engineering, Beijing University of Posts and Telecommunications, Beijing, China
(2)
College of Information Science & Technology, Hainan University, Haikou, China
Copyright
© Liu and Bai; licensee Springer. 2012
This article is published under license to BioMed Central Ltd. This is an Open Access article distributed under the terms of the Creative Commons Attribution License (http://creativecommons.org/licenses/by/2.0), which permits unrestricted use, distribution, and reproduction in any medium, provided the original work is properly cited.