Decoupling congestion control from TCP (semi-TCP) for multi-hop wireless networks
EURASIP Journal on Wireless Communications and Networking
2013
2013:149
Received: 12 November 2012
Accepted: 10 May 2013
Published: 3 June 2013
Abstract
Although many problems for transmission control protocol (TCP) in multi-hop wireless networks have been studied with many proposals in the literature, they are not solved completely yet. Different from the existing proposals to mitigate the limitation of TCP in multi-hop wireless networks, we propose a framework of semi-TCP which decouples two functionalities of traditional TCP, i.e., congestion control and reliability control, in order to get rid of the constraint of TCP's congestion window on performance enhancement. Specifically, we employ hop-by-hop congestion control which is more efficient than its end-to-end counterpart since the control efficiency of the later relies on the availability of end-to-end connectivity which is difficult to sustain in wireless networks. We implement hop-by-hop congestion control via intra-node and inter-node congestion control, and propose a distributed hop-by-hop congestion control algorithm based on the widely used request-to-send/clear-to-send protocol. Such a semi-TCP retains the reliability control in original TCP. Extensive simulations based on network simulator-2 show the promising performance of semi-TCP over traditional schemes.
Keywords
Medium Access ControlTransmission Control ProtocolCongestion ControlMedium Access Control LayerCongestion Window
1 Introduction
Many studies show that transmission control protocol (TCP) cannot perform well in multi-hop ad hoc networks [1–3]. This is because TCP cannot allow the source node to quickly learn the exact congestion situation in wireless networks so that no proper action can be taken immediately to both ongoing and released congestions. Moreover, some characteristics of wireless networks, such as unreliable radio links, shared media, and terminal mobility, cause some networking functions such as routing to perform poorly, which further degrades TCP performance.
TCP in wireless networks has been studied for more than one decade with many proposals published in the literature. Although these proposals vary in designs, they share a similarity in effort to improve TCP's capability of judging congestion status in networks using more efficient mechanisms. Typical schemes include negative acknowledgement [4–7], explicit congestion notification [8], and measurement using probing or monitoring mechanisms [9, 10]. Extensive surveys on TCP in wireless networks can be found in [1, 2, 11–13].
Although these proposals can improve TCP's performance in wireless networks, they do not solve its problems completely. Recently, some proposals such as [14–17] apply hop-by-hop congestion control in multi-hop wireless networks to improve performance significantly. This approach was originally proposed for high performance in wired networks since it can react fast to both ongoing and released congestions, but its implementation is complex since every node along a path needs to be involved in congestion control so that it is rare to be really deployed in wide-area networks. However, we think that such congestion control is a solution of TCP's many problems in shared-media wireless networks. And as what our study in the following shows, some features of wireless networks can be exploited to implement such a control without a big increase in complexity.
To this end, we propose a novel framework termed semi-TCP[18]. Different from existing works, semi-TCP jointly considers the efficiency of congestion control and the functionalities of a transmission control protocol. An approach to tackle TCP's disability to obtain the exact knowledge of network congestion is to use hop-by-hop congestion control instead of end-to-end congestion control. If a hop-by-hop congestion control is implemented below the transport layer, the same function of TCP becomes redundant. In this case, semi-TCP suggests decoupling congestion control from TCP and moving it down to lower layers, and only its reliability control function is retained. With semi-TCP, the TCP congestion window is no longer used to regulate packet sending rate so that the throughput will not be limited by the round-trip time and the performance can be further improved. Furthermore, with the hop-by-hop congestion control, the congestion control efficiency will not rely on the availability of path connectivity.
The most related work with semi-TCP is the ad hoc transport protocol (ATP), an 'antithesis of TCP' [19]. ATP has the following characteristics: (1) A rate-based congestion control is used to replace the window-based congestion control of TCP; (2) A selective acknowledgment (ACK) is used to replace the accumulative ACK of TCP; (3) For congestion control, the intermediate nodes in the network provide congestion information which is consolidated at the ATP receiver and is fed back to the ATP sender. However, the congestion control in ATP still employs end-to-end congestion control on the transport layer. Such approach requires the coordination of the network and data link layers to provide the information required by the per-flow rate-based congestion control carried out by the source. This may complicate its implementation.
The contributions of this paper are as follows:
 We study the concrete protocol design issues in the framework of semi-TCP. Even the idea of hop-by-hop control can trace back to the age to ATM, there are still not very extensive literature in this line of research especially when the two major functionalities of TCP are decoupled.

 An important problem in hop-by-hop congestion control is its complexity since it requires the network to involve in the congestion control procedure. Here, we implement the hop-by-hop congestion control scheme based on widely used request-to-send/clear-to-send (RTS/CTS) protocol. Our scheme is simple to realize since only media access control (MAC) layer is involved and we take advantage of the broadcasting nature of wireless media to ease hop-by-hop congestion control.

 In the protocol design for hop-by-hop congestion control, we observe the deadlock problem which prevents congestion situations to be efficiently released. An algorithm is then proposed to fully address the deadlock problem.

 From extensive simulations on our platform developed based on network simulator-2 (NS-2), we find out significant performance gain of semi-TCP comparing with the state-of-the-art such as TCP-adaptive pacing (AP) [20].
The remainder of the paper is organized as follows. Section 2 discusses in detail the major reasons for decoupling congestion control from TCP, and a semi-TCP scheme using RTS/CTS-based hop-by-hop congestion control is described in Section 3. A simulation investigation in NS-2 is provided in Section 4. Finally, the paper is summarized in Section 5.
2 Motivations for congestion control decoupling
In general, TCP faces the following problems: the effect of the round-trip time (RTT) and ACK, misjudgment on non-congestive losses, and slow reaction to congestion. This section discusses the necessity of decoupling congestion control from TCP in multi-hop wireless networks.
2.1 Constraint of congestion window
Since TCP adopts a congestion control window to control the amount of output traffic based on the reception of ACKs returned by the destination node, the round-trip time (RTT) between the source and destination nodes significantly affects TCP's throughput. This RTT mainly includes packet queuing delay, transmission time, and propagation delay, and increases with path lengths. According to [
21
], in the wired-line network, the maximum sending rate for a TCP connection over a single cycle of the steady-state model is
where R is the minimum round-trip time, p is the steady-state link drop rate, and l is the maximum TCP segment size.
For a TCP connection consisting of
n
 links, each of which has a round-trip time of
τ
 with a dropping rate of
p
 for packets,
R
 can be estimated by
n
τ
, and the throughput is bounded by
which shows that the throughput decreases rapidly with
n
 especially with small
p
, as illustrated in Figure
1
. This is because in this case,
n
is the dominant factor that affects the performance. This phenomenon has been observed empirically as reported in the literature such as [
22
].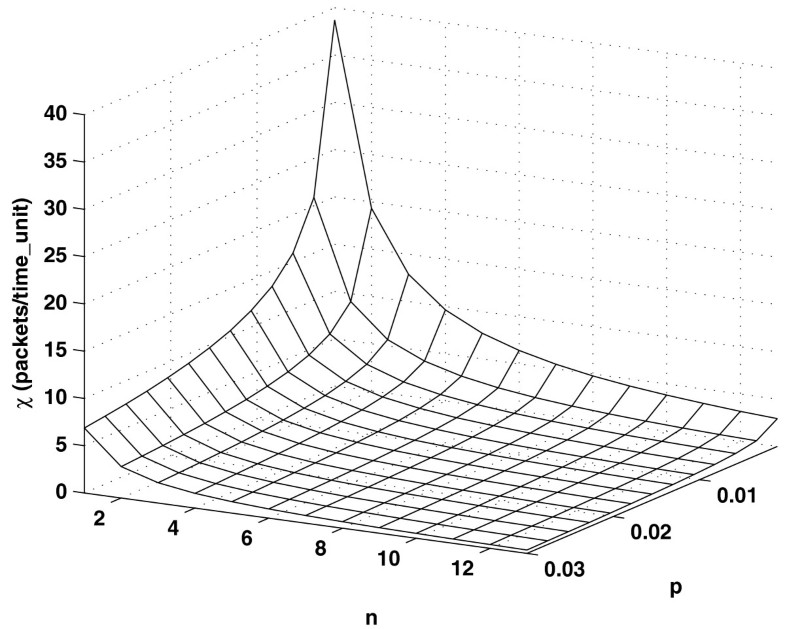 2.2 Effect of RTT and ACK
The reliability control in TCP is realized through segment retransmission, i.e., a TCP source retransmits each transmitted packet that has not been acknowledged successfully. The congestion control is performed by a source through throttling output traffic following its congestion window, which is determined according to the congestion status inferred through the reception of ACK segments. In the case of congestion, the congestion window is shrunk; otherwise, it is increased for every received ACK and almost doubled every RTT.
Although the size of an ACK packet is much smaller than that of a data segment, it needs to go through the same MAC contention procedure as for a data segment to access the wireless channel. Therefore, reducing the number of ACK transmitted along the reverse route can lessen the MAC contention on the forward route since the wireless channel is a shared media. Therefore, delaying ACK transmission to make one ACK to acknowledge more segments can significantly improve TCP performance [23, 24]. However, reducing the number of ACK to be sent by the destination will slow down the growth of the congestion window at the TCP source, thus decreasing the network throughput.
2.3 Misjudgment on congestion status
In wireless networks especially multi-hop ad hoc networks, many new issues arise for TCP. One problem is that TCP cannot distinguish between congestive losses and other losses caused by channel unreliability and terminal mobility. This problem causes the TCP source to unnecessarily decrease its congestion control window once a retransmission timeout (RTO) occurs, resulting in low network throughput. Furthermore, lost and delayed ACKs in the reverse route may also cause the source not to receive ACKs in time, which is also regarded as congestive losses on the forward route by the source node.
Another type of misjudgment is that even if the initial judgment on congestion status in a route is correct, this judgment may become invalid due to instant changes in the route. This change may be caused by either a routing protocol that cannot underpin a path or terminal mobility which changes radio links frequently. If the original route is changed, all effort for congestion control along this route no longer makes sense since the original congested node may not be part of the current route due to mobility, which may also cause a congested link to become part of an original congestion-free route.
The above problems are mainly due to the fact that TCP cannot have enough information on the network status for congestion control. Therefore, decoupling the congestion control from TCP and moving down this function to lower layers can avoid these problems since the lower layers can know immediately what happens in the network.
2.4 Slow reaction to congestions
A TCP source cannot react quickly to a congestion especially with a large RTT as discussed below. Once congestion occurs no matter where it is, the minimum reaction time, which is the time interval between when a congestion occurs to when the source's reaction arrives at the congested node, is at least one RTT. This is because the TCP source infers the network congestion status according to the reception of ACKs fed back by the destination. Due to the same reason, it will take at least one RTT for the source to learn whether a congestion state is released, and more time will be taken by the TCP source to restore its normal congestion window due to the slow start and congestion avoidance mechanisms adopted by TCP. In both cases, the network bandwidth is wasted. Different from wired networks, the bandwidth in wireless networks is scarce so that any bandwidth waste is undesirable.
If congestion control is carried out by the data link layer, the upstream node can take an immediate action on the congestion occurring at its downstream node by a link round-trip delay, which is much shorter than an end-to-end RTT.
2.5 Hop-by-hop congestion control in wireless networks
Although the hop-by-hop congestion control is more efficient than the end-to-end control and suitable for multi-hop mobile ad hoc networks (MANETs), its implementation complexity is high due to per-node involvement in congestion control. However with the MAC implemented in shared-media wireless networks, each node needs to detect activities of other nodes and even to interact with each other. Therefore, some mechanisms for information capture and exchange between neighbors have been already implemented in wireless networks. In this case, it is relatively easy to implement a hop-by-hop congestion control with piggyback mechanisms without a big increase in implementation complexity.
Take the IEEE 802.11 DCF [25] as an example. To address the hidden terminal problem, an RTS/CTS handshake protocol has been adopted and standardized. Basically, the RTS/CTS protocol requires a node to send an RTS first to the receiver, who will send back a CTS if it is clear to receive. It is not difficult to find that this RTS/CTS exchange can be slightly modified by including congestion information for hop-by-hop congestion control. Actually, this is just the basic idea behind the hop-by-hop congestion control discussed in [26].
There are also some other hop-by-hop congestion control schemes at the data link layer such as [14], which changes MAC parameters such as CWmin and CWmax of IEEE 802.11e to carry congestion control information. In [16], an implicit hop-by-hop congestion control is discussed, by which the information on congestion status and control is obtained through observing transmission activities of its neighboring nodes rather than explicit information exchange. Some cross-layer-designed hop-by-hop congestion control schemes have been also investigated [15, 17, 27]. All these hop-by-hop congestion control schemes have been investigated without decoupling congestion control from TCP, thought it makes the congestion control in TCP redundant.
3 A semi-TCP based on RTS/CTS protocol
Motivated by the previous section, this section discusses the protocol design of semi-TCP in IEEE 802.11 multi-hop wireless networks. The two aspects of the scheme are intra-node and inter-node congestion control. In intra-node congestion control, the upper layer in a wireless node limits the delivery of data packets to the lower layer according to the congestion situation in the lower queue. In inter-node congestion control, the neighboring nodes cooperate to release the congestion. We also spot out and discuss the deadlock situation in hop-by-hop congestion control. An effective scheme is proposed to solve this problem accordingly.
The following notations are used in the discussion.
 L : buffer capacity.

 ℵ : queue length, i.e., the occupancy of the buffer.

 Tc: general congestion threshold (Tc≤L).

 m: buffer spaces reserved for transient traffic.

 k: the number of packets the congested node transmits before it is considered not congested.

 g: buffer spaces reserved to avoid the deadlock situation discussed in Section 3.3.
4 Simulation investigation
Here, we study the performance of semi-TCP through simulation in NS-2 by focusing on some fundamental performance characteristics of semi-TCPa.
5 Conclusions
Since the hop-by-hop congestion control is more efficient than the end-to-end control used by TCP, and TCP's congestion window limits further performance improvement offered by the hop-by-hop congestion control, decoupling congestion control from TCP, called semi-TCP, becomes an alternative approach to solve TCP's problems in multi-hop ad hoc networks, especially multi-hop MANETs. This paper investigates such a semi-TCP implementation in NS-2 using a hop-by-hop congestion control, which slightly modifies the IEEE 802.11 RTS/CTS protocol. The simulation studies show that semi-TCP can much outperform TCP-AP. Compared with many other proposals only modifying TCP, the semi-TCP may not be the best solution in terms of end-to-end inter-operability with TCP. However, since TCP has so many problems in mobile wireless networks while some characteristics of wireless networks favorable for the hop-by-hop congestion control, it may be worth of exploiting such decoupling approach in order to achieve higher performance for multi-hop ad hoc networks.
Note that the RTS/CTS handshake protocol may not always be used in the implementation. In this case, the information on the congestion status of a node can be piggybacked by other frames such as data frames or MAC ACK frames, which is under investigation by one of our ongoing research programs. Another research activity is to investigate semi-TCP against the effect of other networking functions such as routing protocols and acknowledgment schemes.
Declarations
Acknowledgements
We thank the reviewers for their detailed reviews and constructive comments, which have helped to improve the quality of this article.
Authors' Affiliations
(1)
Department of Systems and Computer Engineering, Carleton University, Ottawa, Canada
(2)
Marine Internet Laboratory (MILAB), College of Information Engineering, Shanghai Maritime University, Shanghai, China
(3)
School of Electronic and Information Engineering, South China University of Technology, Guangzhou, People's Republic of China
Copyright
© Cai et al.; licensee Springer. 2013
This article is published under license to BioMed Central Ltd. This is an Open Access article distributed under the terms of the Creative Commons Attribution License (http://creativecommons.org/licenses/by/2.0), which permits unrestricted use, distribution, and reproduction in any medium, provided the original work is properly cited.