The efficacy of centralized flow rate control in 802.11-based wireless mesh networks
EURASIP Journal on Wireless Communications and Networking
2013
2013:163
Received: 6 August 2012
Accepted: 30 May 2013
Published: 13 June 2013
Abstract
Commodity WiFi-based wireless mesh networks (WMNs) can be used to provide last mile Internet access. These networks exhibit extreme unfairness with backlogged traffic sources. Current solutions propose distributed source-rate control algorithms requiring link-layer or transport-layer changes on all mesh nodes. This is often infeasible in large practical deployments.
In wireline networks, router-assisted rate control techniques have been proposed for use alongside end-to-end mechanisms. We wish to evaluate the feasibility of establishing similar centralized control via gateways in WMNs. In this paper, we focus on the efficacy of this control rather than the specifics of the controller design mechanism. We answer the question: Given sources that react predictably to congestion notification, can we enforce a desired rate allocation through a single centralized controller? The answer is not obvious because flows experience varying contention levels, and transmissions are scheduled by a node using imperfect local knowledge. We find that common router-assisted flow control schemes used in wired networks fail in WMNs because they assume that (1) links are independent, and (2) router queue buildups are sufficient for detecting congestion. We show that non-work-conserving, rate-based centralized scheduling can effectively enforce rate allocation. It can achieve results comparable to source rate limiting, without requiring any modifications to mesh routers or client devices.
Keywords
Wireless mesh networks802.11DCFCSMA/CAMax-min fairnessCongestion control
1 Introduction
Wireless mesh networks (WMNs) based on the commodity IEEE 802.11 radios are a low-cost alternative for last mile broadband access. Such networks consist of static mesh routers powered by utility electricity. The mesh routers communicate with each other over multihop wireless links. Client devices connect to their preferred mesh router either via wire or over a (possibly orthogonal) wireless channel. Communication is typically to/from clients through the mesh routers over multiple wireless hops, to a gateway mesh router that has a wired connection to the wider world, typically the public Internet.
The 802.11 chipset is the preferred radio platform in both commercial WMN products and research testbeds. However, these networks often exhibit poor-performance characteristics. Multihop flows experience unfairness, including starvation, when competing with nodes closer to the gateway [
1
–
3
]. This is primarily due to the inherent limitations of carrier sense multiple access with collision avoidance (CSMA/CA) media access control (MAC) protocol in a multihop environment, as well as its operational specifications in the IEEE 802.11 distributed coordination function (DCF) access mechanism. We describe these below:
1.

CSMA/CA transmitters located outside mutual carrier sense range may produce misaligned transmissions that result in excessive collisions at a receiver or deprive some nodes of transmission opportunities. As a result, nodes sharing the same wireless channel develop an inconsistent, location-dependent view of the channel state.

2.

DCF provides all nodes in a single contention area with equal transmission opportunities (TXOPs). This MAC-level fairness does not translate to end-to-end fairness in multihop networks where nodes closer to the gateway relay traffic for nodes that are further away.
The impact of these problems can be severe in networks with backlogged traffic; it has been shown that flows closer to the gateway may completely capture the wireless channel at the cost of starving the distant, disadvantaged flows [1]. Without any explicit rate feedback to data sources, this unfairness persists for the duration that the contending flows are active. Existing congestion control protocols such as transmission control protocol (TCP) fail to provide this rate feedback in CSMA/CA-based systems [1, 3]. These problems remain inherent in DCF extensions such as enhanced distributed channel access (EDCA), which schedules elastic TCP streams using the 'Background' or 'Best Effort' class.
A number of research publications (e.g., [1, 4, 5]) have proposed distributed algorithms that allow traffic sources to compute and enforce flow rate limits based on current contention levels in the network. These algorithms require periodic network-wide flooding of time-varying state information. This requires MAC-layer changes to mesh nodes or transport-layer changes to client devices; these are both often infeasible in large, practical deployments.
In wired networks, router-assisted flow control mechanisms (e.g., [6]) have been proposed for use alongside end-host based congestion control protocols. Pure end-to-end flow control schemes cannot provide isolation between flows or ensure rate or delay guarantees; they instead depend on these router-assisted mechanisms for support. We are interested in evaluating the feasibility of establishing similar controls at gateway mesh routers in WMNs providing last mile access. Traffic flows in these networks are primarily directed towards or away from the gateway. This allows the gateway to develop a unified view of the end-to-end flow rates of flows through this gateway, making it a suitable choice for enforcing various resource allocation policy objectives. In particular, we wish to use gateway-enforced control to address flow rate unfairness in WMNs.
In this paper, we focus on the efficacy of such a centralized control, rather than specifics of the controller mechanism design itself. Given a desired rate-allocation policy objective (e.g., max-min allocation [7]), we evaluate the effectiveness of gateway rate control in enforcing this objective in a 802.11-based WMN. This evaluation is necessary because multihop wireless network characteristics are distinct from wired networks or even one-hop wireless local area networks (WLANs): competing flows in a WMN traverse different number of hops, each flow experiencing varying levels of link contention along its path; further, transmissions along individual links are scheduled based only on the localized view of the CSMA/CA transmitters. We discover that these characteristics render some common router-assisted wired network mechanisms ineffective as gateway-enforceable solutions in WMNs. Work-conserving scheduling techniques, such as fair queueing (FQ) or weighted fair queueing (WFQ) [8] are inadequate on their own as they assume independence of links. Similarly, router-assisted probabilistic packet drop techniques including active queue management (AQM) [6] are ineffective because packet losses in a multihop network are spatially distributed and cannot be accurately predicted using the queue size at the gateway router. We describe these fundamental differences in Sections 5.1 and 5.2.
We show that simple non-work-conserving, rate-based centralized scheduling techniques can enforce fairness in 802.11-based WMNs. Link layer retransmissions allow a 802.11 node to recover from wireless losses. When combined with rate-based scheduling, this allows all nodes to obtain their share of the network capacity. We show that even course-grained rate control on net-aggregate traffic passing through the gateway is effective in eliminating unfairness. Further improvements are obtained when we isolate flows using FQ alongside aggregate rate-based scheduling. Finally, rate-based scheduling can be enforced on a per-flow basis, allowing fine-grained control over the resource allocation process. We evaluate and establish the efficacy of these gateway-enforced control techniques in both single-channel and multi-radio, multi-channel WMNs.
The remainder of this paper is organized as follows: in Section 2, we explain how DCF leads to flow unfairness and starvation in WMNs with backlogged traffic; we discuss related work, contrasting it with our approach in Section 3; in Sections 4 and 5, we describe various techniques for enforcing centralized rate control in WMNs and evaluate their effectiveness using simulations. These simulations use network capacity models to determine fair share rate information. While such models are extraneous to this work (we are interested in evaluating the efficacy of centralized control given a desired rate allocation), for completeness, we describe the models used in this paper in Section 7.
2 Flow unfairness and starvation in DCF-based multihop networks
A core function of any MAC protocol is to provide fair and efficient contention resolution mechanism. Here, we describe the behavior of 802.11 DCF in multihop networks when the contending nodes are (a) within, and (b) outside mutual carrier sense range.
2.1 Nodes within mutual carrier sense range
On average, DCF provides equal TXOPs to nodes within carrier sense range. This provides per-station fairness in WLANs where stations communicate directly with the access point (AP). However, it does not translate to flow-level or end-to-end fairness in WMNs where nodes closer to the gateway relay an increasing amount of aggregate traffic. Without a proportionate increase in the number of TXOPs, these nodes will experience higher queue drops. This results in capacity loss when the dropped packets originated from other nodes and had already consumed a portion of the shared spectrum. For example, consider a two-hop parking lot topology with two flows originating from the one-hop and the two-hop node destined to a common gateway. Assume uniform wireless link rates with a nominal MAC-layer capacity W. The max-min fair share for each flow is , for an aggregate network capacity of . However, with 802.11 MAC and continuously backlogged sources, the aggregate network capacity reduces to with the two-hop flow starving [9].
2.2 Nodes outside mutual carrier sense range
When two transmitters are outside carrier sense range, DCF's distributed scheduling driven by local carrier sensing may produce misaligned transmissions [
2
]. We use two illustrative topologies to show its impact on flow rate fairness:
information asymmetry
topology in Figure
1
a, where
S
1
experiences excessive packet loss due to collisions at
R
1
and
flow-in-the-middle
topology in Figure
1
b, where
S
2
starves for TXOPs. In both cases, nodes develop a location-dependent, inconsistent view of the state of the shared wireless channel.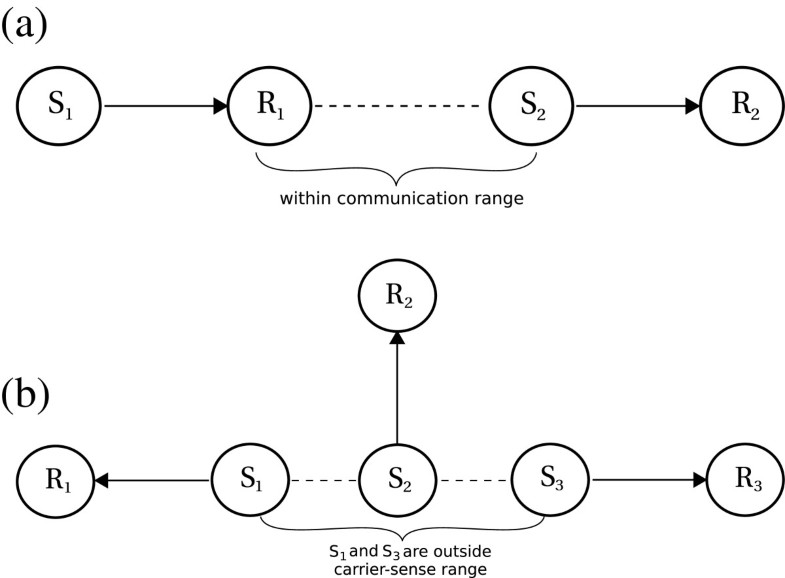 2.2.1 Starvation from collisions
Consider the topology in Figure 1a where both senders S1 and S2 have backlogged traffic for their respective receivers R1 and R2. The two senders are outside mutual carrier sense range. Assume that both transmitters are in the first backoff stage, i.e., they choose a random backoff between 0–31 time slots. A collision at R1 is inevitable as the two transmissions can be at most 32 time slots (640 μs for 802.11b) apart, while it takes upwards of 1,500μs to transmit a 1,500-byte Ethernet-friendly MTU and its subsequent link-level acknowledgement (ACK) using 802.11b physical layer parameters [3]. This collision only impacts S1's packet to R1. S1 now doubles its MAC contention window, choosing a backoff between 0 and 63 time slots, while S2 remains in the first backoff stage. S2 is now twice likely to start transmitting before S1; even if S1 waits a maximum of its 64 time slots, the probability of collision is still 1. S1 doubles its contention window yet again, but even in this third backoff stage, the probability of collision is 0.6. Thus, DCF steadily builds up the contention window for the disadvantaged node S1, while allowing S2 to contend for the channel with a minimum window following every successful transmission; the two transmitters share an inconsistent, asymmetric view of the channel state [2].
We note that the information asymmetry topology in Figure 1a is an extension of the hidden terminal problem. However, floor-acquisition mechanisms such as request to send/clear to send (RTS/CTS) fail in this scenario. First, even the RTS frames are susceptible to a collision probability of 0.55 when both transmitters are in the first backoff. Second, when the RTS frames do not collide, R1 will not respond to S1's RTS if it has already been silenced by a prior RTS from S2 to R2. From S1's perspective, this is no different from when its RTS frame collided at R1 because of S2's transmission.
2.2.2 Starvation from lack of transmission opportunities
Collisions are not the only reason for the nodes to develop an inconsistent view of the channel state; this may occur even in an ideal CSMA/CA protocol with no collisions. Consider the flow-in-the-middle [2] topology in Figure 1b where S2 is in carrier sense range of both S1 and S3, but S1 and S3 are outside carrier sense range of each other. With backlogged traffic sources, the throughput for S1 and S3 equals the channel capacity with S2 starving. This is because S2 is always deferring its transmissions to one of the other senders.
2.3 Cross-layer interaction with TCP
The DCF behavior described above may lead to cross-layer interaction with higher-layer protocols. In particular, TCP's congestion control mechanism further exacerbates the fairness problem. First, TCP allocates bandwidth as a function of a flow's round-trip time thus penalizing flows with a large hop count. Second, TCP interprets delays in receiving an ACK as a sign of packet loss due to network congestion. In CSMA/CA networks, delays may occur due to transient medium access errors inherent in topologies similar to those described in Figure 1. While wireless link-layer retransmissions may potentially recover from collisions, TCP retransmission timeouts may still occur in the interim. This results in TCP invoking slow start and dropping its congestion window to one. On the other hand, contending nodes that successfully transmitted a packet gradually increase their TCP congestion window under backlogged traffic, eventually capturing the wireless channel. Thus, with backlogged TCP, the short-term MAC unfairness degenerates to long-term flow rate unfairness and starvation for disadvantaged flows.
3 Related work
The challenges associated with using a CSMA/CA-based MAC in multihop networks have been discussed previously [3, 10]. In general, a flow not only contends with other flows sharing the spectrum (i.e., inter-flow contention), but may also interfere with its own transmissions along the path to the destination (i.e., intra-flow contention) [11]. Flows can be routed over non-interfering high-throughput paths [12, 13] when they exist; however, in many WMNs, the traffic is predominantly directed towards and away from the gateway, creating a network bottleneck. The degree of contention increases with increasing traffic loads. Related work in the literature addresses it from different perspectives: MAC-layer enhancements, transport layer enhancements, and higher-layer rate control algorithms.
By far, the largest body of literature specifically devoted to wireless network fairness is that of the MAC-layer solutions (see [14–16], among others). Such approaches tend to assume that contending flows span a single hop and fairness may be achieved by converging the MAC contention windows to a common value. Schemes for reducing collisions can also help improve fairness, e.g., virtual backoff algorithm [17] uses sequencing techniques to minimize the number of collisions in a single hop wireless network. However, optimal end-to-end fair allocation for multihop flows cannot be achieved by MAC scheduling based only on the local information. For multihop networks, solutions include prioritizing transmissions based on timestamps [18], using EDCA TXOPs differentiation [19], or adjusting the minimum contention window parameter at each relay node [5]. However, these solutions are not backwards-compatible across all variants of 802.11a/b/g/n networks, or may have limited utility in multi-radio, multi-channel WMNs. In this work we show that centralized flow rate control techniques are not constrained by these limitations.
A number of studies have associated the inter-flow contention experienced by a single TCP flow to its TCP congestion window exceeding its optimum size. For a chain topology, the optimum window size that maximizes spatial reuse is 1/4th the number of hops between a source and destination [20]. Note that this does not resolve any inter-flow contention between multiple TCP flows, and subsequent unfairness and starvation may still ensue. Modifications or alternatives to TCP for multihop networks have also been proposed (e.g., [21, 22]), though these require modifying the transport stack on the client devices and may present integration challenges when communicating with a wired host running the standard TCP stack. In this work, we show that strong fairness characteristics can be enforced through a centralized rate-based scheduling mechanism without modifying individual client devices or mesh routers.
Rate control algorithms operating outside the transport layer have also been shown to improve fairness between flows. Given a network topology and traffic demands, conflict graph models such as the clique model [15], its time-fairness extension [1], as well as Jun and Sichitiu's nominal capacity model [9], may be used to compute optimal bounds on network capacity. We defer description of these models to Section 7. Raniwala et al. [4] proposed a distributed algorithm based on the conflict graph approach [23] for modeling constraints on simultaneous transmissions. Rangwala et al. [24] have proposed an AIMD-based rate control alongside a congestion sharing mechanism. The proposed mechanism is designed for many-to-one communication paradigm of sensor networks but fails in one-to-many (typical downloads in mesh networks) or many-to-many scenarios, or a mix of these. This is because the congestion sharing mechanism as defined in IFRC, fails to propagate the congestion information to all potential interferers.
Finally, we note that several works deal with congestion control in wireless networks with relayed traffic [25–27]. However, congestion control does not aim for fairness, and the solutions do not guarantee any fairness scheme. Furthermore, their system models either focus on (very) bursty traffic and power-consumption for the sensor-net environment [26], or are incompatible with IEEE 802.11, assuming independence of links [27].
4 Centralized flow rate control in WMNs
Centralized rate control implemented at gateway routers offers many advantages over distributed rate control schemes. First, since the gateway bridges all traffic between WMN and the wired Internet, it can formulate a unified, up-to-date view of the traffic state without additional signaling. Second, the gateway rate control does not require any changes to mesh routers. This is advantageous when the mesh routers are commodity customer peripheral equipment (CPE)-owned and managed by subscribers with the internet service provider (ISP) having little control over them. Third, centralized rate control is effective even when the nodes in the network cannot be trusted to correctly enforce the desired rate control mechanisms. Finally, the notion of centralized rate control also lends itself naturally for providing an auditing and a billing framework that can be essential to the operations of an ISP.
Router-assisted congestion control mechanisms have been extensively studied for wired networks. Congestion in Internet routers occurs due to statistical multiplexing or link speed mismatch across different network interfaces. Gateway nodes in WMNs interface the high-speed wired backhaul link with the shared-spectrum wireless resource that is often the system bottleneck, creating opportunities for reusing existing wired solutions in this new problem domain. In the following sections, we consider three categories of algorithms: work-conserving scheduling-based algorithms (Section 4.1), preferential packet-drop algorithms (Section 4.2), and traffic-shaping algorithms (Section 4.3).
4.1 Work-conserving scheduling-based algorithms
Work-conserving packet scheduling algorithms like FQ and WFQ are approximations of the generalized processor sharing (GPS) scheduler that is the theoretically ideal mechanism for providing fair bandwidth allocation [8]. Their work-conserving nature maintains a high network utilization. While distributed FQ protocols have earlier been proposed for ad hoc networks [28], we are interested in evaluating their impact on fairness when enforced at the gateway. To the best of our knowledge, this has not been evaluated in prior work.
4.2 Packet-drop/marking algorithms
Packet loss in wired networks primarily occurs at the router queue interface across the bottleneck link. Selective packet drop and/or marking techniques (e.g., AQM variants such as random early detection (RED) [6]) allow these routers to signal incipient network congestion to traffic sources. Since gateway mesh router bridges traffic between the high-speed wired network and the shared-spectrum wireless network, it appears that these algorithms may also be effective as gateway-enforced solutions in WMNs.
Fair random early drop (FRED) [29] extends the RED algorithm to improve flow rate fairness. While RED effectively avoids network congestion, it may not improve fairness since it does not differentiate between connections. Thus, when incipient congestion is detected, all packets (irrespective of the flow) are marked with the same drop probability. In contrast, FRED uses per-flow accounting to ensures that the drop rate for a flow depends on its buffer usage.
A brief overview of FRED is as follows: a FRED gateway classifies flows into logically separate buffers. For each flow i, it maintains the corresponding queue length q len i . It defines min q and max q , which respectively are the minimum and the maximum number of packets individual flows are allowed to queue. Similarly, it also maintains min t h , max t h , and avg for the overall queue. All new packet arrivals are accepted as long as avg is below the min t h . When avg lies between min t h and max t h , a new packet arrival is deterministically accepted only if the corresponding q len i is less than min q . Otherwise, as in RED, the packet is dropped with a probability that increases with increasing queue size.
We note that Xu et al. [30] have proposed the use of RED over a virtual distributed 'neighborhood' queue comprising nodes that contend for channel access. This was in the context of wireless ad hoc networks in which flows do not necessarily share traffic aggregation points. In our work, we explore the traditional use of AQM as a router-assisted (gateway-enforced) mechanism.
4.3 Traffic policing/shaping algorithms
Traffic policing and shaping algorithms are commonly used when traffic limits are known or pre-determined in advance (e.g., for enforcing compliance with a contract). The difference between policing and shaping is minor yet subtle: policing does not implement any queueing and excess packets are immediately dropped. Shaping, on the other hand, can absorb short bursts of packet, where the burst size is determined by the allocated buffer. When the buffer is full, all incoming packets are immediately dropped and traffic shaping effectively acts as traffic policing. Both policing and shaping are examples of non-work-conserving scheduling methods.
Traffic shaping can be enforced at different levels of resource abstraction; it can be applied to aggregate traffic allowed to pass through a network interface, or it may be enforced on individual flows in a traffic stream. We describe some of these control configurations below.
4.3.1 Interface aggregate rate limit
The fundamental trade-off between total network capacity and flow-level fairness has been identified in prior work [
1
]. Specifically, aggregate network throughput is highest when all resources are allocated to the least cost flow while starving all others. Since the gateway router injects TCP packets or the subsequent ACKs into the wireless network, it can be used to control the aggregate throughput of a network. We are interested in enforcing a
fair-aggregate
rate limit at the gateway wireless interface. This is the fair-aggregate network capacity and is simply the sum of max-min fair rate allocation of all flows in the network. This rate is then enforced on the net aggregate data traffic allowed through the gateway using the token bucket mechanism shown in Figure
2
a.

4.3.2 Interface aggregate rate limit with FQ
TCP flows sharing a single queue are susceptible to synchronization due to bursty and correlated packet losses. To prevent this, we introduce per-flow queues with fair scheduling between them. By separating flows, we can provide isolation between flows experiencing different levels of contention for network access, e.g., we can separate locally generated traffic at a node from its relayed traffic. This new architecture is shown in Figure 2b. Note that while flows are queued separately, rate limits are still enforced for the net aggregate traffic traversing the gateway.
Separating traffic into flows requires a flow classifier. For WMNs providing last mile access, this classification can be based on source or destination mesh routers. Thus, a flow f i represents the aggregate of all micro-flows originating from, or destined to, mesh router n i in the network. In this context, we use nodes and flows interchangeably in our discussion. We note that this classification is consistent with the common practices employed by ISPs on wired networks, where capacity is managed on a per-subscriber basis.
4.3.3 Per-flow rate limit
While the architecture in Figure 2a,b manages aggregate traffic through an interface; there may be a requirement for more fine-grained control over resource allocation between individual flows. This may be necessitated by QoS-enabled mesh networks where the provider wishes to support differentiated services or provide weighted max-min or proportional fairness. We extend the system architecture to provide per-flow rate limiting at the gateway router as shown in Figure 2c. Data traffic through the gateway can be classified into queues, which are then drained out at their specific rate. Note that we are proposing rate-limiting data traffic only; system housekeeping messages like routing updates are not rate limited.
5 Performance analysis
We evaluate the efficacy of gateway-enforced control in WMNs using simulations in ns-2 [40]. We implement and evaluate each of the control actions described in Section 4 on the gateway. Our implementation works between the 802.11 MAC layer and the network layer, and operates transparently without requiring changes to either layer. We do not modify the regular mesh routers. We model the wireless channel propagation using the two-ray ground reflection model [31]; it considers the direct path as well as the ground-reflected path between the source and destination. We assume a static noise floor and a uniform static link rate of 1 Mb/s. We simulate the DCF channel access mechanism. Our TCP experiments simulate an infinite file transfer using TCP NewReno [32]. Our upstream flows originate from a mesh router and terminate at a host on the wired network; downstream flows take the other direction. We use Jain's fairness index (JFI) [33] as a quantitative measure of fairness for the resulting allocation.
5.1 Work-conserving scheduling-based algorithms
We simulate a TCP source on a wired network sending data to three mesh routers arranged in a three-hop parking lot topology. Nodes are indexed such that nodes
n
1
,
n
2
, and
n
3
are, respectively, one, two, and three hops away from the gateway node
n
0
. Let the corresponding flows be
f
1
,
f
2
, and
f
3
. Nodes up to two hops may interfere per the default carrier sense and interference range values in our simulator. The wireless interface on the gateway
n
0
implements FQ for downstream traffic. We benchmark these results against experiments with a shared Drop Tail first-in first-out (FIFO) queue at
n
0
. Figure
3
shows that FQ has little impact on flow rate fairness. TCP ACKs sent by
n
3
are susceptible to collisions at receiver
n
2
because of concurrent transmissions from
n
0
which is outside
n
3
's carrier sense range. These collisions produce an inconsistent view of the channel state between the nodes; while
n
3
backs off after repeated collisions, the TCP congestion window for flow
f
1
builds up to fill the channel capacity. Smaller buffer size at
n
0
limits the growth of this window, but when
n
3
is backed up, any leftover capacity is consumed by the flow
f
2
.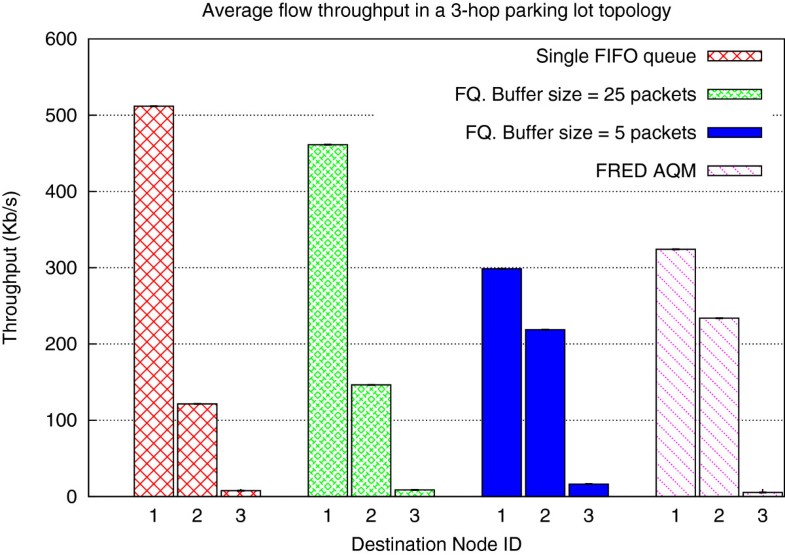 FQ, WFQ, and similar router-assisted scheduling techniques assume independence between links and were designed as work-conserving schedulers; they do not allow the output link to remain idle if any of the flows have packets to send. While this maintains high efficiency in wired networks, it creates problems in wireless networks where the contending links are not independent, i.e., transmission on a link precludes successful delivery of data on contending links. In topologies where mesh nodes share an inconsistent view of the channel state, work-conserving scheduler would schedule packets for advantaged node when it has nothing to send for distant, disadvantaged flows, while ideally it should defer any transmissions and keep the medium idle to allow for successful transmissions by disadvantaged nodes. The situation deteriorates when work-conserving schedulers are used with backlogged traffic sources using elastic TCP streams due to the cross-layer interaction described in Section 2.
5.2 Packet-drop/marking algorithms
We simulate a FRED gateway router on the three-hop parking lot topology used above. We use downstream flows because a queue build-up (for detecting incipient congestion) only occurs when packets traverse from a high-speed wired link to a shared-medium WMN. The gateway queue size and various FRED parameters are consistent with the default values in ns-2.
Our results with the FRED queue at the gateway are shown in Figure 3. It fails to prevent starvation for TCP flow to node n3. By monitoring queue drops at the gateway, we found that the FRED queue did register some proactive packet drops for f1 and f2, though it was insufficient to preclude the starvation of f3.
Figure
4
shows the per-flow data arrival rate (not ACKs) in the FRED queue at the gateway during our simulation. The queue space is evenly shared amongst the flows at the start, but continues deteriorating through the simulation execution. New data packets are not seen for
f
3
because TCP ACKs for the previously transmitted ones are never received. This is because TCP ACKs transmitted by
n
3
experience a high loss rate due to collisions from concurrent transmissions by
n
0
. As discussed in Section 2, this hidden terminal cannot be resolved using RTS/CTS control frames. Because of frequent collisions,
n
3
repeatedly increases its contention window to a point where TCP timeouts occur, and the packets have to be retransmitted by the gateway. Though
f
1
transmits fewer packets with FRED, the extra available bandwidth is acquired by
f
2
because there is very little traffic to be sent out for
f
3
because of the combined effect of the 802.11 contention window and the TCP congestion window.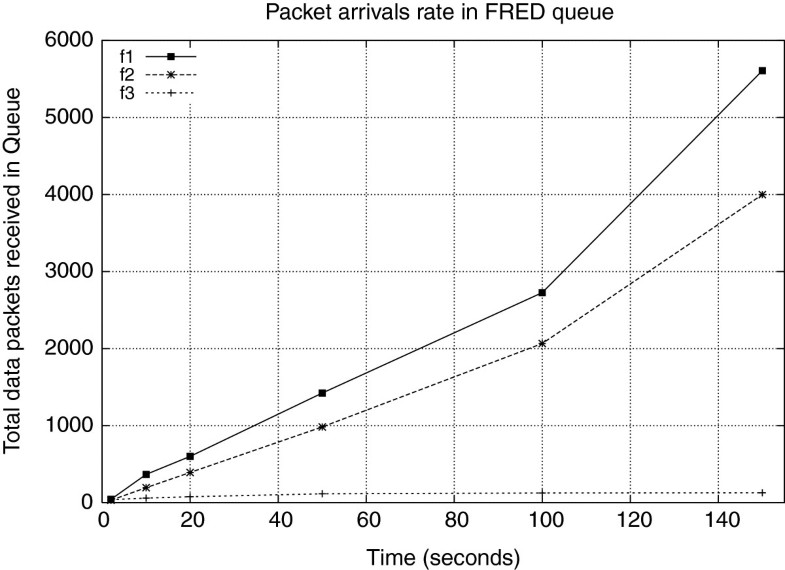 We conclude that AQM is ineffective as a gateway-enforced technique for improving flow rate fairness in WMNs. This is due to fundamental differences in packet loss characteristics between wired networks and WMNs [34]. In wired networks, packet loss occurs primarily at the queue interface into the bottleneck link. In WMNs, however, these packet losses are spatially distributed over various intermediate routers (see Section 2) and cannot be accurately predicted by simply monitoring the queue size at the gateway router.
5.3 Traffic policing/shaping algorithms
We evaluate the various traffic shaping alternatives described in Section 4.3. Our simulations include a number of chains, grids, and random multihop network topologies, including both upstream and downstream flows, with up to a maximum of 35 simultaneously active nodes transmitting via a single gateway. Experiments for a given topology are repeated 25 times with different random seeds and random flow activation sequences, and the results averaged. For each topology, the traffic shaping rate is computed off-hand using a collision domain network capacity model [9]. Other capacity models such as clique-based models [23] may similarly be used. We note that the mechanisms for computing fair flow rates is orthogonal to this work; in this paper, we focus on evaluating the efficacy of gateway-enforced control given a desired rate allocation, rather than the mechanics of accurately estimating the network capacity and inferring flow rates. Nonetheless, for completeness, we provide an overview of these two capacity models in Section 7.
The fair rate allocation computed by the model is enforced at the gateway via the traffic shaping architectures described in Section 4.3. The collision domain capacity model allows us to compute per-flow rate. The interface aggregate rate limit is then simply the sum of the fair rates of constituent flows. This rate limit is the fair-aggregate capacity of the network.
6 Conclusions
WMNs, particularly those based on the 802.11 radios, exhibit extreme fairness problems, requiring existing deployments to limit the maximum number of hops to the gateway to prevent distant nodes from starving. In this paper, we explore the feasibility of using centralized rate control that can be enforced at traffic aggregation points such as gateway routers. We show that router-assisted techniques in wired networks, including work-conserving packet scheduling (such as FQ and its variants) and probabilistic packet-drop techniques (such as AQM and its variants) are inadequate as centralized rate control techniques in WMNs. This is because of fundamental differences in the abstraction of wired and wireless networks: (1) transmissions on wired links can be scheduled independently, and (2) packet losses in wired networks occur only as queue drops at bottleneck routers. Our experiments indicate that non-work-conserving, rate-based centralized scheduling can be used effectively in WMNs. Even rate-limiting the aggregate traffic passing through the gateway router improves the fairness index two-folds over the base case with a shared FIFO queue. Further granularity in rate allocation control can be obtained by isolating flows using per-flow buffering and by exercising per-flow rate limiting. The fairness indices achieved with these modifications are comparable to source rate limiting techniques that require changing the MAC or transport layer on the end-hosts.
Having established the feasibility of gateway-assisted rate control in WMNs, we are now working on extending this work along multiple dimensions. First, we are developing practical heuristics and mechanisms to estimate flow rates using the information available locally at the gateway. We are pursuing a feedback-based approach in which the centralized controller adapts its behavior in response to changing network and flow conditions. Second, we are considering the impact of multiple gateway nodes in large WMN deployments. Some gateways in these networks may need to exchange signaling information to reconcile their views of the available network capacity. This requires identifying flows that use one gateway but interfere with flows using other gateway(s). The signaling between these gateways, however, may use the wired backbone without consuming wireless capacity. We hope to address these challenges in the future.
7 Appendix
7.1 Model for estimating per-flow fair share
Flow rates used in our analysis in Section 5 were computed off-line using a network capacity model. For completeness, in this appendix, we briefly describe the two computational models that we considered and provide an analysis of the capacity achievable with these models to the model implemented in ns-2.
We first state the assumptions necessary to our approach. We presume that routing is relatively static, based on the fact that the WMN nodes are stationary and, likely, quite reliable. By 'relatively static', we mean that changes in routing will be significantly fewer than the changes in stream activity. This assumption implies a few things, including that network membership changes (such as node additions or hardware failures) are few and far between, and that load balancing is not used in the network. While the first assumption is certainly valid, the second assumption is a simplification that we hope to address in the near future.
We also assume that the WMN has a single gateway. Though this is generally not true in large deployments, given static routing, for each node, there will be a single gateway. We thus partition a multi-gateway WMN into disjoint WMNs, each with a single gateway. While there may be interference between the resulting set of WMNs, this is a problem that must already be dealt with insofar as there may be interference from any number of other sources.
Given these assumptions, we consider a WMN with
N
nodes that are arbitrarily located in a plane. Let
d
i
j
denote the distance between nodes
n
i
and
n
j
. Let
T
i
be the transmission range of node
n
i
. We model this network as a labeled graph, where the mesh nodes are the vertices, and a labeled edge exists between two vertices
n
i
and
n
j
iff
In other words, the nodes must be within transmission range of each other. An edge in this connectivity graph is also referred to as a link. A stream is defined by an exchange of data packets between a mesh node and its corresponding gateway. An active stream is one for which data is currently being exchanged.
Authors' Affiliations
(1)
CEMSE Division, KAUST, Thuwal, Saudi Arabia
(2)
University of Waterloo, Waterloo, Canada
Copyright
© Jamshaid et al.; licensee Springer. 2013
This article is published under license to BioMed Central Ltd. This is an Open Access article distributed under the terms of the Creative Commons Attribution License (http://creativecommons.org/licenses/by/2.0), which permits unrestricted use, distribution, and reproduction in any medium, provided the original work is properly cited.