Research Article

Open Access
Activity-Oriented Design of Health Pal: A Smart Phone for Elders' Healthcare Support
EURASIP Journal on Wireless Communications and Networking
2007
2008:582194
Received: 1 June 2007
Accepted: 15 November 2007
Published: 24 December 2007
Abstract
Wireless telephones and personal digital assistants are emerging, as the information hubs connect their human users with assorted electronic devices and the World Wide Web. As such, they quickly become the de facto basis for personalized information services. The Kannon project team at the National Chiao Tung University (NCTU) in Taiwan is developing a ubiquitous service infrastructure for elders' healthcare support. Among their deliverables, there is a PDA Phone, christened Health Pal, which can communicate with Bluetooth/ZigBee devices, uni¬ver¬sal plug-and-play (UPnP) e-home service platforms, and online healthcare providers to offer 24/7 healthcare services to elderly people. This paper presents the early results of this effort including the functional and operational concepts of Health Pal as well as the activity-oriented approach of its design. Preliminary results of its usefulness and usability evaluations are reported. A comparison of this platform against several similar prototypes was also included to illustrate the advantage of applying activity-oriented design approach to human-computer interactions.
Keywords
Mobile PhoneMenu OptionHealthcare ActivityMedical Service SystemMenu Navigation
1. Introduction
Telephones, especially their wireless decedents, are perhaps the most widely used, the most influential, and the most rapidly evolving technology in the modern history. Visionaries predict that these compact, affordable, untethered communication/information processing devices will culminate endless uses as camcorders, game consoles, navigation aids, tour guides, house keys, remote controls, burglar alarms, health monitors, electronic wallets, passports, and so on [1]. Economists credited them as the most effective means to bridge the "digital divide" [2]. We see them as a promising way to connect elderly people with their lives and their world. To convince yourselves with the potential value of cellular telephones in enriching and safeguarding elders' lives, you may simply consider the following scenarios and imagine the difference that a "smart phone" can make in these situations.
(1)

Many old people have the need of long-term medication, and they often take several kinds of medicine at the same time. Almost every elder knows the frustration of missing doses and the concern about potential drug interactions. How much would they like to have a smart phone that can manage their dosage to avoid dangerous side effects, remind them of their medicine schedules, and adjust the schedules to compensate for missing doses?

(2)

Increasing number of affluent elders pay close attention to their health conditions. They want to monitor their pulse rates, blood pressure, and oxygen and sucrose levels regularly, and use these data to plan their diet and exercise routines. Besides, the value of home-based health monitoring has also been recognized. Studies showed that home-based blood pressure monitoring can be as accurate as 24-hour ambulatory procedure in diagnosing hypertension [3]. The US Joint National Committee thus recommends self-monitoring of blood pressure, before considering ambulatory monitoring, to improve hypertension management [4]. A PDA phone with Bluetooth biosensors will be an ideal instrument for performing these home-based health monitoring tasks.

(3)

Another value-added service for health conscious elders will be to keep track of the amount of carbohydrates, fat, protein, and sodium they consume as well as the amount of aerobic exercises they have on daily/weekly basis. Again, a cell phone with an embedded bar-code/RFID reader and a wireless pedometer will go a long way to offer this desirable service.

(4)

Old people are also concerned with the possibility of having medical emergencies while they are unattended. They worry whether the emergency response team can find them and diagnose their conditions in time. A cell phone can be a life safer in those situations if it can transmit the elder's location, his/her medical data, and the audio-visual feed of the situations to a hospital with the flip of a safety switch.
Figure
1
shows the physical appearance of
Health Pal
. The device was designed by researchers from the human engineering, the applied arts, and the computer science departments of National Chiao Tung University (NCTU) in Hsinchu, Taiwan. Besides, being a PDA phone,
Health Pal
also aims at helping affluent elders to take care of the following three aspects of their healthcare needs.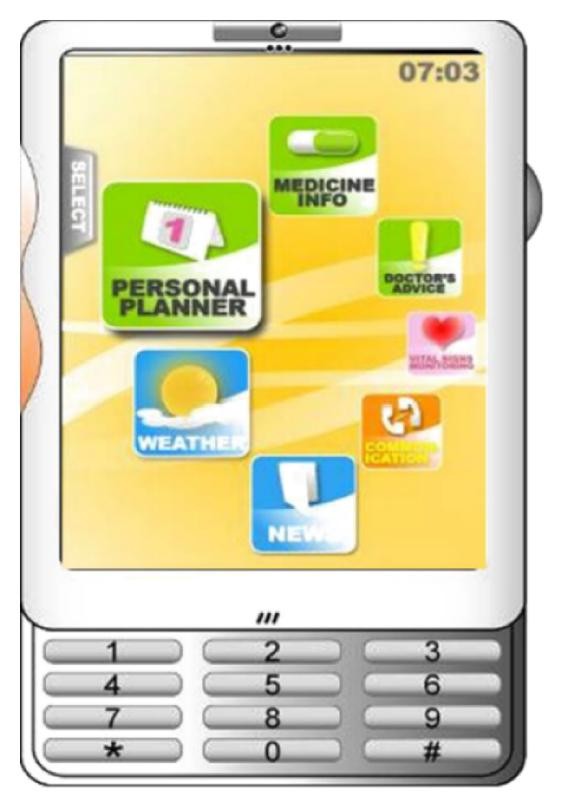 (1)Health monitoring: Health Pal can measure pulse rate, blood pressure, and oxygen or sucrose levels by connecting itself to wearable biosensors; these physiological data can be collected on regular/need basis, and may be stored in the device or uploaded to online databases for continuous monitoring and in-time diagnosis.
(2)Treatment support: Health Pal can remind its user of his/her doctors' appointments, medical tests, exercise routines, and medicine intakes; the schedules of these events can be entered via email, short messages (SMS) or wired/wireless database synchronization. They can also be generated by resident software based on user's needs and preferences.
(3)Lifestyle (diet and exercise) management: Health Pal can help health-conscious people to regulate their diet by keeping track of their carbohydrate, protein, fat, and sodium intakes based on meticulous accounting of food ingredients using product barcodes and nutrition labels. The device can also estimate the amounts and rates of protein/fat/calorie depletion by recording and analyzing biosensor data collected by Health Pal.
To ensure market acceptance and user satisfaction, Health Pal was designed to be comprehensible, versatile, and fashionable in its appearance and functions. Being comprehensible means that it can be used by people with limited computer proficiency. Being versatile means that the device can provide ever more services by associating itself with add-on devices. Being fashionable means that the device will have an elegant design so that it may be adopted as a status symbol or a personal decor.
This paper reports the design philosophy and process of Health Pal (Section 2) as well as introduces its functions and user interfaces (Section 3). In order to differentiate our device from similar devices in terms of their intended uses and features, we offered a comparison before making the conclusions.
3. Device Features
Health Pal was designed to be a "constant companion" to its user. Its design process includes the following four steps: (1) the design of display screen and formats, (2) the layout of user interfaces including control buttons and menus, (3) the planning of user-device interactions, and (4) the creation of visual metaphors and symbols.
3.1. Screen Layouts and Display Formats
Health Pal uses large legible display and simple screen layout. Texts on the screen were 14-point sizes with high contrasts.
The screen space of
Health Pal
was divided into four areas:
menu navigation
,
system stat
us
,
operation guidance
, and
main activity
(see Figure
4
). Menu navigation area was seated on the left top of screen space. It provided the useful information of menu (such as relative position, function category) to help users understand their current status and reduce the chance of menu missing. System status area located on the right-top side of the screen provided information such as date, time, and battery life to help users hold the system state of
Health Pal
. A control guide on the left side demonstrated the current menu situation. The central space of screen is the main active area. All the functions of
Health Pal
were displayed in this area; users can interact with these functions via the two hard buttons.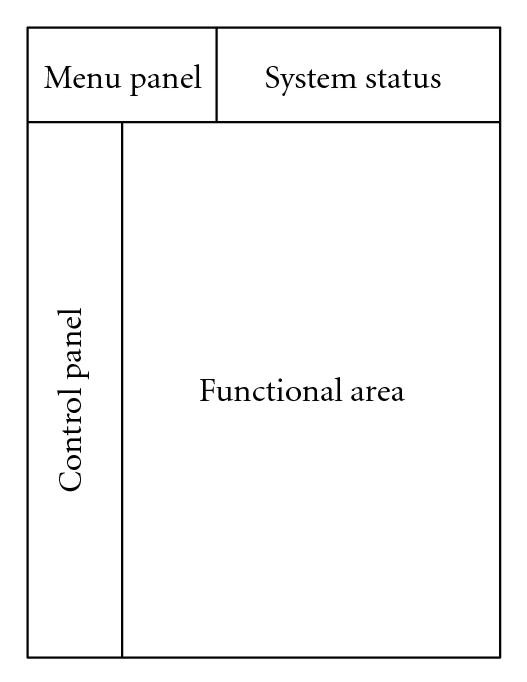 3.2. Interaction Design
Elders interact with
Health Pal
by three components: a circular menu for display options, a mouse wheel for choosing options, and two hard buttons for selecting options (see Figure
5
). A circular menu disclosed the menu options. A fish-eye method was presented in the menu. The combination of circular menu and fish-eye display let users understand where they are in the menu tree and help them preview the neighboring options besides their current selection. A mouse wheel was used to select menu options; this was because the interaction style of mouse wheel was similar to elders' previous experience such as interacting with the channel selecting of radio. Afterwards, the user can select an option through pressing the hard button.
In addition, the sequence of menu options was ranked based on the elders' activities focus. Also, the sequence of menu options was adapted according to the elders' use frequency of each option. Therefore, the user can find the functions quickly and decrease the possibility of getting lost in the menu.
Elders can operate Health Pal with only one hand using their thumb to operate the circular-menu via mouse wheel and the two flexible fingers (first and middle) to perform the two hard buttons. This interaction style could keep the quality of usability even when the elders were under the mobile environment. Moreover, a sliding part of Health Pal was used to support the two additional functions "number key in" and "emergency calling." When users pull the sliding part down, they can operate the numeral keypad; whereas pushing the sliding part up, the emergency model starts automatically.
3.3. User Interface Flows
The interface flows of Health Pal can be defined as four levels. Level (0) was defined as the context-aware level; in this level functions were performed automatically through sensing the conductions of use context. Level (1) was defined as the main interactive page; the relative information and options will be displayed in this level. Level (2) was defined as advanced information level; user can reach more detail information about current operating function in this level. Level (3) was defined as the system-setting level; user can set the system options in this level. For example, when Health Pal situates the time and then sends an alarm to remind elders to take medicine, the system now is in level (0). Then, elders confirm the remind message and enter into the main function page, the system now is in level (1). If elders want to get more information about the medicine, he/she could enter into level (2) by pressing the hard button. Furthermore, user can set the options of medicine reminding function such as alarm frequency or alarm sound volume in level (3).
3.4. User Interface Metaphors
In order to reduce the technological distance between the Health Pal and the elders, Health Pal used several metaphors to present the information. For example, the elders health conditions were presented as an emotional expression icon; a user could understand her/his health condition by only judging the state of icon (happy or sad). For the reminding of medicine taking function, a medicine-box metaphor was used to provide related information of medicine taking such as color/form of medicine, and times for taking medicine in a day. Moreover, two virtual avatars "Ms. Nurse" and "Mr. Weather" were used to assist elders to reach the healthcare information and the weather information.
4. Usefulness and Usability Evaluation
5. Device Comparison
The currently existing researches of providing elders with health care services include four ways: reminding systems, telecoms, and emergency contacts or medical service systems. The reminding systems include PEAT system [18], autominder system [19]; the emergency system includes AGAPE service [13], and examples of medical service systems are MIThril [14] and wearable context aware system for ubiquitous healthcare [15].
PEAT system is the first one to use AI planning technique. It is mainly used on portable configurations. When the project proceeds, PEAT system provides vision and acoustic clues. It has a model to memorize users' detailed schedule, and alarm users with this model. But when the user installs some specific information, the system will accommodate automatically. When a new activity is added, PEAT will use PROPEL (planning and execution system) to simulate the plan to solve the contradictions between plans.
Autominder system can precisely update user's daily program, monitor these activities, and provide adequate reminding. The system has three main components: (1) the Plan Manager, which maintains user's daily schedules, updates event information, and resolves potential timetable conflicts; (2) the Client Modeler, which enables the user to look up his/her daily schedules and keep track of the progress of his/her work; (3) the Intelligent Reminder Generator (IRG), which sends reminding messages to the user based upon the To-Do list maintained by the Plan Manager and the Current Event list kept in the Client Modeler. It is more reliable than PEAT system because it enhances the ability to evaluate plans and alarms under a more reasonable surrounding. Autominder is now manipulated upon three platforms: Pearl robots, IMP intelligent walker, and PDAs which are based upon wireless communication.
The scheduling function puts an emphasis on the reminding timers of hospital appointments and medicine taking. Further, the inputting events in Health Pal are automatically inputted through external peripherals. Users do not need to arrange their schedules and enter them in Health Pal by themselves. Health Pal emphasizes simple operations, reduces complicated functions, automatically receives necessary medical care events, and gives reminding in advance. Health Pal makes it as simple as possible for the elders.
AGAPE service helps elders by tracking their locations and monitoring their health to provide information to the helping crew. AGAPE sets up a framework of seeable location information and the information of elders, doctors, and the emergent medical crew to help dealing with the emergent events. AGAPE connects elders' portable configurations with wireless internet. The monitor system is ECG, which supervises diseases like arrhythmia. When the user feels ill, the system will establish an emergent medical crew according to the documents.
Health Pal emergency system does not automatically realize users' emergent situations, but provides an easy way for users to contact in emergency. Furthermore, Health Pal performs users' personal medical records on the portable configurations so as to make passengers or emergency medical technicians understand patients' previous medical system and to prevent inappropriate medical treatments or first aid.
MIThril system embeds the physical medical sensors into cell phones or PDAs to provide input/output and common calculating functions. MIThril system also subsupports wide-range physical examinations. Its software is object oriented; therefore, it follows the requirements of some specific users to install particular sensors. The system supports configurations like accelerometer, GPS navigator, voice-activated devices, thermo sensors, and so on. Meanwhile, MIThril connects via RS-232 links to biosensors that monitor user's breathing rate, blood pressure, oxygen, and sucrose levels.
Wearable context-aware system for ubiquitous healthcare is a service system of providing health care with Ubicomp. It connects physical monitoring sensors (heartbeats, breath, body temperature, and calories) with context sensors to predict possible context information. After calculating, the system provides health care services (location-based services, remote healthcare services). Currently, it is used on PDA systems to remote monitor users' physical information. When the physical signals are sent to the PDA through ZigBee, the PDA will provide the information to doctors through wireless internet. Furthermore, the physical information is also provided to the users. Health Pal, in contrast, combines medical reminders, provider communication, and self-care to provide users with integrated services.
6. Conclusions
Health Pal is still in its infancy. The design of the physical device and its user interfaces was completed according to the activity-oriented design (AOD) approach. However, its hardware prototyping and software implementation have just begun. Further evaluation of its usability will be carried out once the working prototype is ready.
Declarations
Acknowledgments
The design of Health Pal was supported in part by two grants: (1) Grant no. 95W803E offered to the Infotronic Center for Better Living under the Academic Excellency Initiative sponsored by the Ministry of Education of Taiwan, and (2) the thematic project SISARL (Sensor Information Systems and Services for Active Retirees and Assisted Living) sponsored by the Academia Sinica of Taiwan.
Authors' Affiliations
(1)
Department of Computer Science, National Chiao Tung University (NCTU), Hsinchu, Taiwan
(2)
Department of Industrial Engineering, National Chiao Tung University (NCTU), Hsinchu, Taiwan
(3)
Department of Occupational Therapy, I-Shou University (ISU), Yanchao, Kaohsiung CountyTaiwan
(4)
Institute of Applied Arts, National Chiao Tung University (NCTU), Hsinchu, Taiwan
Copyright
© John K. Zao et al. 2008
This article is published under license to BioMed Central Ltd. This is an open access article distributed under the Creative Commons Attribution License, which permits unrestricted use, distribution, and reproduction in any medium, provided the original work is properly cited.