Adaptive transport layer protocol for highly dynamic environment
EURASIP Journal on Wireless Communications and Networking
2012
2012:229
Received: 30 March 2012
Accepted: 21 June 2012
Published: 23 July 2012
Abstract
Computer and wireless communication require Internet accessibility at anytime and anywhere; this includes in a high-speed mobile station such as in speedy trains, fast moving cars as vehicle-to-infrastructure communication. However, wireless Quality of Service (QoS) provisioning in such an environment is more challenging. This increased the development of numerous schemes concerning the need of smooth handover of the mobile nodes. Conversely, transport layer (L4 in ISO layers) protocols such as stream control transmission protocol can support such a seamless handover in high-speed mobility users. This article highlights on the issues of moving users in mobile WiMAX networks. An adaptation of transport layer protocol of the high mobility vehicle that supports seamless handover can guarantee and maintain QoS for rapid handover rates. The results show an improvement of L4 protocol in terms of delay time and throughput in order to enable efficient and robust mobility aware protocols.
Keywords
Cross-layerHandover delayAdaptive mobilityHigh speed
Introduction
With more users moving around in need of Internet connection from their home to their office, vehicular ad-hoc network (VANETs) has increasingly become popular. However, to have infrastructure of 3G and 4G around VANET expands its usage by attaching the users to the backbone infrastructure for additional support and usage applications. Thus, in VANET there are two types of communication, which are vehicles-to-vehicle (V2V) and vehicle-to-infrastructure (V2I). V2V deals with communication between vehicles themselves, while V2Itransmits information between vehicles and the fixed infrastructure which are installed on the sides of the road. This infrastructure includes gateways or base stations that provide services such as Internet access. VANET is very similar to mobile ad-hoc network (MANETs). However, the network topology in vehicular networks is highly dynamic and the topology is often constrained by the road structure [1, 2].
Furthermore, V2I is likely to encounter a lot of obstacles such as poor channel quality and connectivity due to high moving speeds. Thus, there is a crucial need for effective protocols that take the specific characteristics of vehicular networks into account [3, 4].
Most of the existing transport layer techniques proposed for mobility cannot deal with mobility on their own, since they depend on the network layer mobility management required by handovers. The main purpose is simply to minimize the degradation of transport layer performance caused by handovers. Some of the newly emerging protocols, such as stream control transmission protocol (SCTP), suggest the possibility of independent management of mobility by the transport layer. The multi-homing features of SCTP provide a basis for mobility support since it allows a mobile user to add new IP address, while holding the old IP address already assigned to itself [5–9].
When the vehicle moves fast in V2I from on base station to another; the current Internet session will experience long handover delay. To reduce this delay we proposed an enhancement over existing protocol known as seamless IP diversity-based generalized mobility architecture (SIGMA) as shown in Figure
1
. SIGMA uses a location manager (LM) to reduce handover delay caused of diversity in the network as mentioned in Figure
1
. Conversely, SIGMA experiences more handover delay and packet loss rate when the handover rate is high (high moving speed). A cross-layer design of transport layer (L4) and data link layer (L2) is proposed in order to optimize the performance of SIGMA. To exploit SIGMA IP diversity and overcome the weakness for high speeds, a cross-layer design makes L4 aware about the movement of the vehicle using the radio signal strength indicator (RSSI) of L2.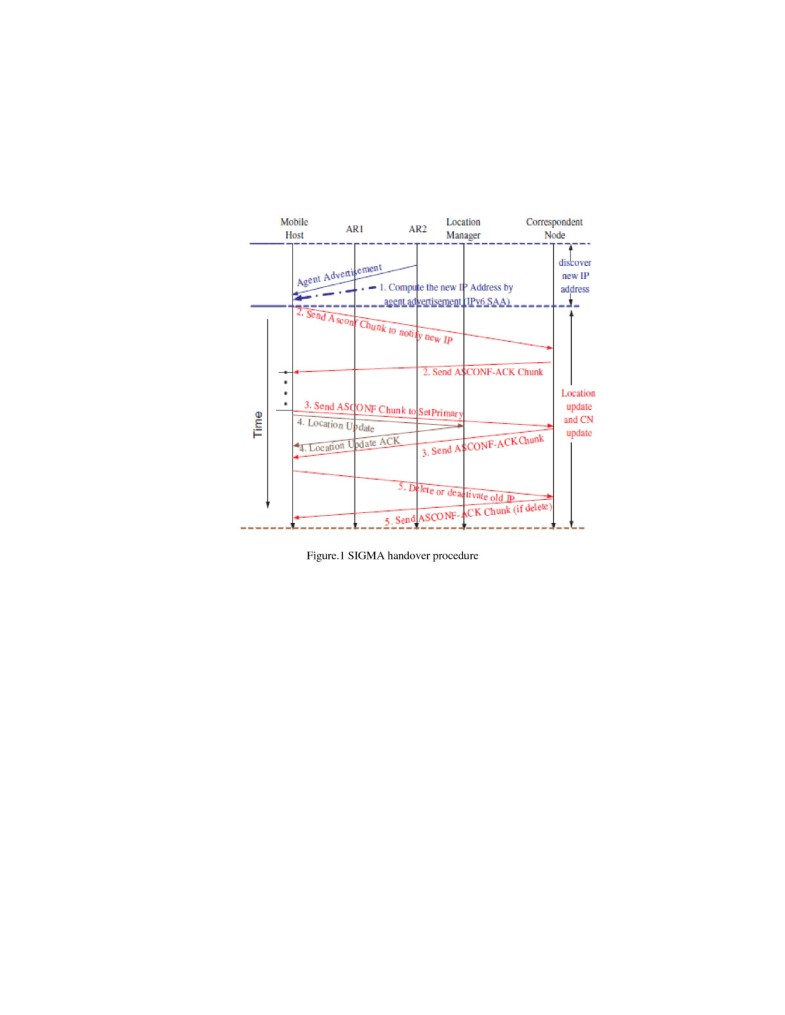 The rest on the article is organized as follows. The following section presents the highly dynamic environments literature review, and the related works. An overview of vehicular network mobility management in terms of five requirements is detailed in "Vehicular network mobility management". The cross-layer design of the high speed to overcome the problem statement is discussed in Section "Proposed transport layer adaptation for high-speed vehicle". Section "Simulation topology" describes simulation topology and parameters. Section "Results and discussion" presents results of the protocol design mentioned, and the final section concludes the article.
Results and discussion
The simulation scenario taking accounts the MS speeds between 1 and 40 m/s. 40 m/s (equals to 144 km/h), which is above the 100 km/h limit described in IEEE 802.16e for a seamless handover. When the vehicle is moving to the border of one BS in a certain speed, the signal quality of the SBS begins to degrade. Consequently, either the signal strength becomes low to initiate handover by sending (MOB-MSHO-REQ/RSP) messages. Alternatively, when the signal strength is below threshold (WiMAX standard 2 dB) and the actual process of HO would be executed as (MOB–HO–IND) sends.
Handover latency
As mentioned earlier when applies SIGMA in a scenario appear in Figure
2
, SIGMA's handover latency of is very nasty (15 ms of L2 delay) at a low speed of MN [
15
–
17
]. On other hand, mSCTP experiences more handover delay in high-speed vehicle case. To eliminate these problems our proposed design uses SIGMA protocol cooperatively with mSCTP. However, using SIGMA in this design can be useful to drop duplication address detection delay using SIGMA's LM without more delay when updating vehicle location. In addition, using SIGMA's LM remains with no triangle routing problem of the packets' route between CN and vehicle in case of the high-speed vehicle [
13
]. That's because the CN always sends the packets directly to the vehicle's current IP address through LM. The handover delay for this cross-layer design calculated from vehicle to CN. The disruption time due to L2 is about 10 ms and it is negligible for L3. For L4, it takes about 0.045 ms for ASCONF to SET-PRIMARY/DEL-IP, then from Equation (
1
) the total disruption time:
The handover delay between vehicle and CN depend on RTT between both is about 20 ms. A comparison of these protocols and proposed design handover delays are shown in Figure
6
.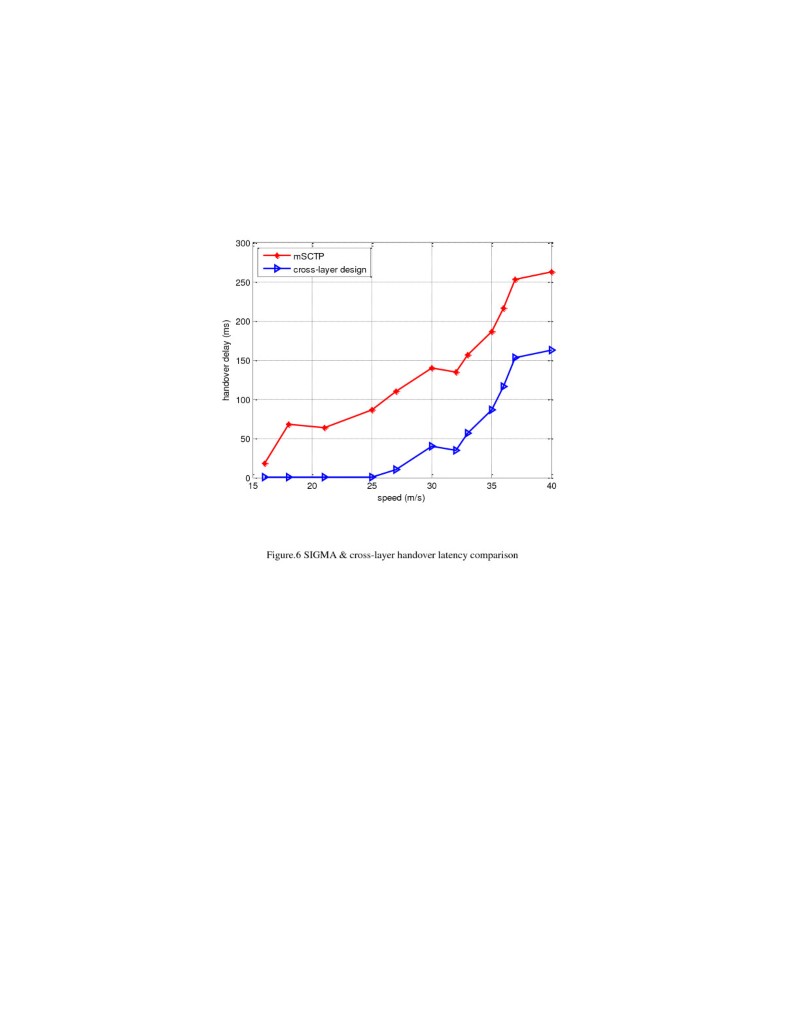 Throughput
In this scenario, the throughput is considering the vehicle communicating to IEEE802.16e. When the vehicle speed increases to the higher value (140 km/h for WiMAX BS), the communication time in one coverage area of BS about 67 s for SCTPcd and handover latency is about 25 ms. Thus for high-speed vehicle with a consecutive handover the vehicle cannot receive packets for 0.2 s due to handover, and then receives packets for 66.8 s. As a result, the throughput of SCTPcd is much better than other SCTP in the environment of highly dynamic handover. Table
2
lists the throughput of SIGMA versus cross-layer design in speed of 15–40 m/s.
Table 2
Comparison of cross-layer and SIGMA throughputs for different speeds (15–40 m/s)
Protocols

Speeds

15

40

Throughput (Mpbs)

SIGMA

6

0.9

SCTPcd

9

9
From Figure
7
, the dropping probability is very high in SIGMA design compare with our cross-layer design that is because of the consecutive handover in a short period. Also, Figure
8
depicted the handover delay time when the network load is high. To simplify the comparison, we test the simulation under network load of ten vehicles.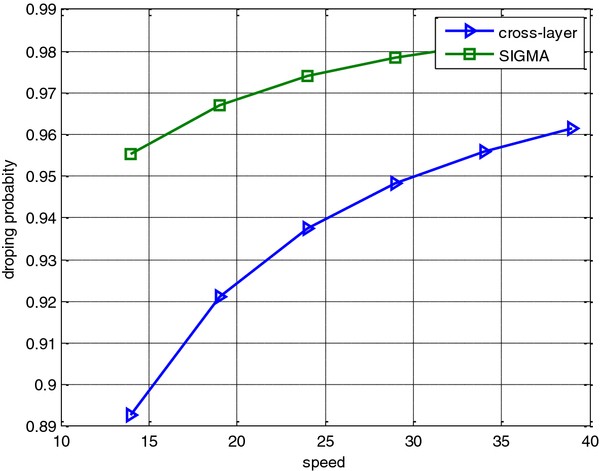 Conclusion
Internet accessibility in high-speed vehicles as V2I is more challenging and raise the need of least delay. In this article, an adaptive algorithm was proposed on L2 to support seamless handover in high-speed vehicles that connecting to a CN through the Internet. Moreover, a proposed cross-layer design at L2 has adapted L4 of SIGMA protocol design for global reachability to network. The cross-layer design dynamically updates L4 of handover at the time when network parameters (RSSI, SNR) degrade to unacceptable level. The results show that our design achieves better performance about 90% when speed is higher than SIGMA protocol design.
Declarations
Acknowledgments
The authors would like to thank all those who contributed toward making this research successful. Also, we would like to thank all the reviewers for their insightful comments. The authors wish to express their gratitude to Ministry of Higher Education (MOHE), Malaysia and Research Management Center (RMC), Universiti. Teknologi Malaysia for the financial support of this project under GUP research grant no: Q-J I 30000.71 23–02 J93.
Authors' Affiliations
(1)
UTM MIMOS CoE Communication and Information, Faculty of Electrical Engineering, Universiti Technologi Malaysia, Skudai, Malaysia
Copyright
© Jubara et al.; licensee Springer. 2012
This article is published under license to BioMed Central Ltd. This is an Open Access article distributed under the terms of the Creative Commons Attribution License (http://creativecommons.org/licenses/by/2.0), which permits unrestricted use, distribution, and reproduction in any medium, provided the original work is properly cited.