Overview of enabling technologies for 3GPP LTE-advanced
EURASIP Journal on Wireless Communications and Networking
2012
2012:54
Received: 16 September 2011
Accepted: 20 February 2012
Published: 20 February 2012
Abstract
As the long term evolution (LTE) standard comes to an end, 3rd Generation Partnership Project is discussing further evolution of the LTE to meet the international mobile telecommunications advanced requirements, which is referred to as LTE-Advanced (LTE release 10 and beyond). This article first presents the network infrastructure of the LTE-Advanced, and then provides an in-depth overview of enabling technologies from the physical layer aspects, including carrier aggregation, advanced multiple-input multiple-output (MIMO) techniques, wireless relays, enhanced inter-cell interference coordination (eICIC), and coordinated multipoint (CoMP) transmission/reception. In particular, we describe concept and principle of each technology and elaborate important technical details. Moreover, we discuss promising study items of the LTE-Advanced for further enhancement.
Keywords
Relay NodeLong Term EvolutionCode Division Multiple AccessOrthogonal Frequency Division Multiplex SymbolResource Block
1 Introduction
In the last few years, telecommunication industry has been growing explosively. The beginning of modern telecommunication was marked by the invention of telegraph in the eighteenth century. At that time, the message transmission was performed in a rudimentary way, in that there was no mechanism for automatic error correction and interference management. However, people had used it for about 100 years, until Thomas Edison invented telephone in 1876. The telephone network, known as public switched telephone network (PSTN), was rapidly established in Western counties. From that moment, a lot of novel concept and techniques, such as modulation, demodulation, and cellular concept, had been developed to improve the quality of telecommunication services. These inventions constitute the cornerstone of the first mobile telephone service which was introduced by America in 1946 [1, 2].
In 1979, the first (1G) commercial cellular network was launched in Japan based on the Nordisk MobilTelefoni (NMT) standard which had been developed in the north European countries. After then, several countries followed, including US, UK, and Canada. In particular, the US deployed an analog cellular standard, called advanced mobile phone system (AMPS), in 1983 and it was widespread over North America [1, 2]. A digital cellular standard known as global system for mobile communications (GSM, originally groupe special mobile) was founded in 1987 and became the standard for the 2nd generation (2G) cellular system, improving modulation, voice codecs and security service as compared to 1G analog systems [3]. In addition to the transition from analog to digital, the GSM system adopted time-division multiple access (TDMA) to serve multiple subscribers, while the AMPS used frequency division multiple access (FDMA). In another side, Qualcomm developed Interim Standard 95 (IS-95) system based on code division multiple access (CDMA) technology [4], which was considered as a part of 2G systems and was deployed in North America and Korea.
The 3rd Generation Partnership Project (3GPP) and 3GPP2 were founded in 1998 from groups of telecommunication associations to develop the 3rd generation (3G) cellular standard based on CDMA technology. The 3GPP has worked standardization based on the GSM network, whereas the 3GPP2 has continued to evolve the IS-95 network. The standardization had produced two different radio access technologies (RAT's): Wideband CDMA (WCDMA) for 3GPP and cdma2000 for 3GPP2 [5]. The biggest difference is that the WCDMA supports inter-cell asynchronous operation, while the cdma2000 requires inter-cell synchronism relying on the global positioning system (GPS). Since the 3GPP released the first version of the standard, referred to as release 99 or Universal Mobile Telecommunication System (UMTS), in 2000, the standardization have been continuing evolution up to now. Accordingly, the peak data rate has increased steeply, from 384/128 kbps for downlink (DL) and uplink (UL) in UMTS, 14/5.7 Mbps in high speed packet access (HSPA), to 28/11 Mbps in HSPA+ [6].
As the CDMA based network reached its limit in accommodating rapidly increasing demand for wireless data traffic, 3GPP decided to develop a standard based on a new access technology, which is called long term evolution (LTE). Especially, the LTE adopted orthogonal frequency division multiplexing (OFDM) instead of CDMA as multiple access technology, in order to efficiently support wideband transmission. In addition, the use of multiple-input multiple-output (MIMO) techniques plays an important role in improving the spectral efficiency. The LTE standard has been finalized, yielding release 9 as its final version. The peak data rate of LTE is as much as 100/50 Mbps for the DL and UL. Since March 2008, 3GPP has been working on further enhancement of the LTE to meet the International Mobile Telecommunications (IMT)-Advanced requirements, which was defined by International Telecommunications Union (ITU) for the fourth generation (4G) evolution [7]. The evolved versions (LTE release 10 and beyond) are called LTE-Advanced [8].
The LTE-Advanced established its own requirements [
9
], which are tabulated in Table
1
along with International Mobile Telecommunications-Advanced requirements [
10
]. Most of the LTE-Advanced specifications are set to meet or exceed the IMT-Advanced requirements, which makes the LTE-Advanced a strong candidate for the IMT-Advanced system. In 2009, the 3GPP partners made a formal submission to the ITU proposing that LTE-Advanced be evaluated as a candidate for IMT-Advanced [
11
]. Important technologies of the LTE-Advanced for meeting the IMT-Advanced requirements include carrier aggregation, advanced MIMO techniques, wireless relays, enhanced inter-cell interference coordination (eICIC), and coordinated multipoint (CoMP) transmission/reception.
Table 1
Requirements of the IMT-Advanced and LTE-Advanced
Performance metrics

IMT-Advanced requirements

LTE-Advanced requirements

Peak data rate

DL 1 Gbps, UL 1 Gbps

DL 1 Gbps, UL 0.5 Gbps

Peak spectral efficiency

DL 15 bps/Hz, UL 6.75 bps/Hz

DL 30 bps/Hz, UL 15 bps/Hz

Bandwidth

Scalable bandwidth, minimum

40 MHz

Scalable bandwidth, 1.4/3/5/10/15/20 MHz per band, up to total 100 MHz

Latency

   User plane

Maximum 10 ms

Maximum 10 ms

   Control plane

Maximum 100 ms

Maximum 50 ms

Handover interrupt time

   Intra-frequency

27.5 ms

Better than LTE release 8

   Inter-frequency

40 ms (within a band)

60 ms (between bands)

VoIP capacity

   Indoor

50 users/sector/MHz

Better than LTE release 8

   Microcell

40 users/sector/MHz

   Base coverage urban

40 users/sector/MHz

   High speed

30 users/sector/MHz
The rest of this article is organized as follows. In Section 2, the network architecture and protocol stack of the LTE-Advanced are described with special focus on the physical layer (PHY). Section 3 presents an overview of several enabling technologies that make the LTE-Advanced meet the IMT-Advanced requirements and be differentiated from the legacy LTE. Finally, in Section 4, concluding remarks are given by identifying promising future work items of the LTE-Advanced.
2 Network infrastructure
2.1 Network architecture
The core network of the LTE-Advanced system is separated into many parts. Figure
1
shows how each component in the LTE-Advanced network is connected to one another [
12
–
14
]. NodeB in 3G system was replaced by evolved NodeB (eNB), which is a combination of NodeB and radio network controller (RNC). The eNB communicates with User Equipments (UE's) and can serve one or several cells at one time. Home eNB (HeNB) is also considered to serve a femtocell that covers a small indoor area. The evolved packet core (EPC) comprises of the following four components. The serving gateway (S-GW) is responsible for routing and forwarding packets between UE's and packet data network (PDN) and charging. In addition, it serves as a mobility anchor point for handover. The mobility management entity (MME) manages UE access and mobility, and establishes the bearer path for UE's. packet data network gateway (PDN GW) is a gateway to the PDN, and policy and charging rules function (PCRF) manages policy and charging rules.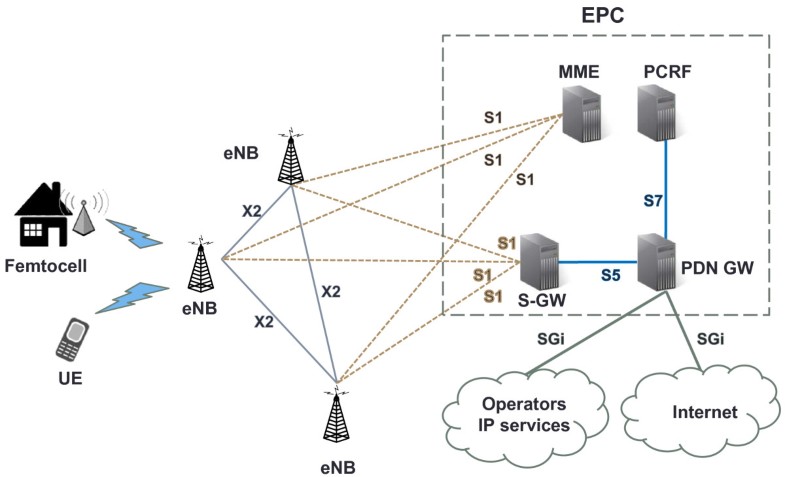 2.2 Protocol stack
Protocol stacks for the control plane and user plane are illustrated in Figure
2
[
12
]. The protocol for user plane includes package data convergence protocol (PDCP), radio link control (RLC), medium access control (MAC), and PHY protocol. The control plane stack additionally includes the radio resource control (RRC) and non-access stratum (NAS). The functions of each protocol are summarized in Table
2
.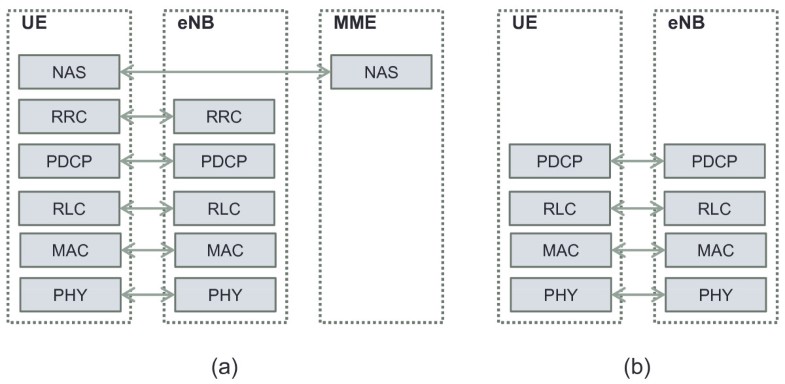 Table 2
Functions of each protocol
| Protocol | Functions |
| --- | --- |
| NAS | · Connection and session management between UE and the core network |
| | · Authentication |
| | · Registration |
| | · Bearer context activation/deactivation |
| | · Location registration management |
| RRC | · Broadcast system information related to Non-Access Stratum (NAS) and Access Stratum (AS) |
| | · Establishment, maintenance, and release of RRC connection |
| | · Security functions including key management |
| | · Mobility functions |
| | · QoS management functions |
| | · UE measurement reporting and control of the reporting |
| | · NAS direct message transfer between UE and NAS |
| PDCP | · Header compression |
| | · In-sequence delivery and retransmission of PDCP Session Data Units (SDU's) for acknowledge mode radio bearer at handover |
| | · Duplicate detection |
| RLC | · Error correction through Automatic Repeat Request (ARQ) |
| | · Segmentation according to the size of transport block and re-segmen in case a retransmission is needed |
| | · Concatenation of SDU's for the same radio bearer |
| | · Protocol error detection and recovery |
| | · In-sequence delivery |
| MAC | · Multiplexing/demultiplexing of RLC PDU's |
| | · Scheduling information reporting |
| | · Error correction through HARQ |
| | · Local channel prioritization |
| | · Padding |
| PHY | · Transmission of electric signals |
| | · Modulation |
| | · Line coding |
| | · Synchronization |
2.3 Physical layer
The LTE-Advanced inherits most of specifications from the LTE, but improves them to satisfy the IMT-Advanced requirements. DL multiple access scheme is orthogonal OFDMA, which allows assigning s subset of subcarriers to each individual user. The use of OFDMA provides high flexibility in the number of simultaneously served users and heterogeneous data rates for different users. On the other hand, single carrier-FDMA (SC-FDMA) is adopted for the UL. The reason for this is that the SC-FDMA provides much better peak-to-average power ratio (PAPR) property than the OFDMA [15, 16], and that the UL transmission usually does not require such high data rate as the DL transmission. Actually, the original SC-FDMA was slightly modified in the LTE-Advanced to support carrier aggregation in the UL, which will be discussed in Section 3.1.
As depicted in Figure
3
, the frame length of the LTE-Advanced is 10 ms, which is divided into ten subframes [
17
]. Each subframe consists of two slots of length 0.5 ms, and each slot contains
N
symb
(= 7) OFDM symbols for the case of normal cyclic prefix. A group of adjacent subcarriers constitute a resource block (RB). The larger the transmission bandwidth is, the larger number of RB's (=
N
RB
) will be available. For a bandwidth of 20 MHz, for instance, there are 100 RB's available. Differently from the LTE that uses only cell-specific reference signal (CRS), the LTE-Advanced employs UE-specific demodulation reference signal (DM-RS), channel state information reference signal (CSI-RS), multimedia broadcasting single frequency network (MBSFN) reference signal, and positioning reference signal in addition to the CRS [
17
]. Using these reference signals, LTE-Advanced could support 2 × 2, 4 × 2, 4 × 4, and 8 × 8 antenna configurations. Control channels for the DL subframe are physical control format indicator channel (PCFICH), physical hybrid automatic repeat request indicator channel (PHICH) and physical DL control channel (PDCCH) [
17
]. The structure of the UL subframe is simpler than that of the DL subframe. Reference signals called demodulation RS's are located within each slot at the fourth OFDM symbol. Only the first and the last subcarriers are dedicated to carry the control signals, such as channel quality indicator (CQI), acknowledgment/negative acknowledgment (ACK/NACK), and scheduling request indicator (SRI).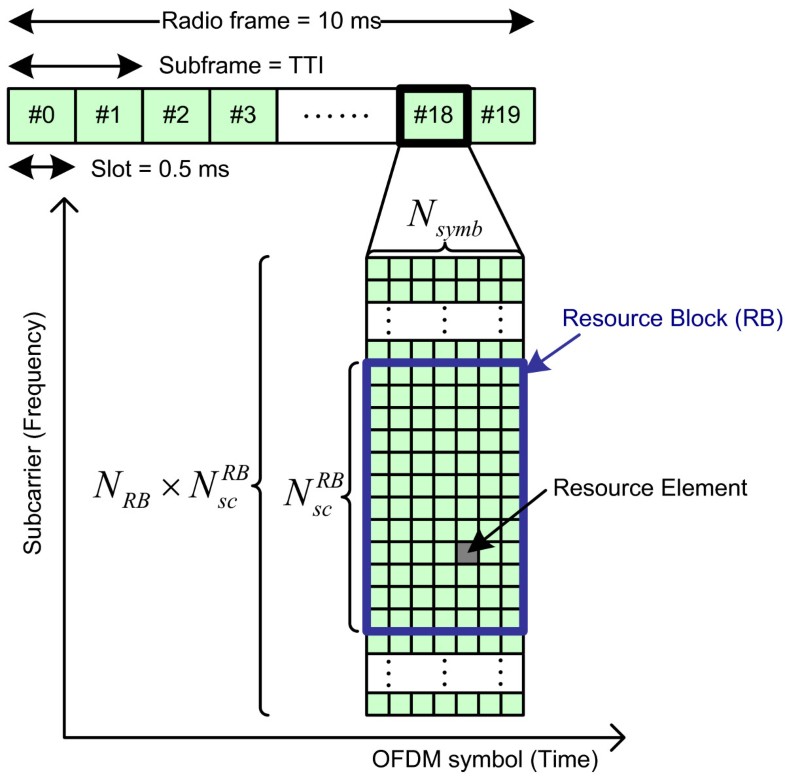 4 Conclusion
This article has provided an overview of current status of advanced technologies that enable the LTE-Advanced to meet its requirements and differentiate it from the legacy LTE. The standardization process on the LTE-Advanced is still ongoing, and more advanced features are expected to be discussed and included in the future. Promising study items include enhanced carrier aggregation without the backward compatibility constraint, efficient MIMO schemes under the scenario that low-power nodes are nonuniformly distributed, open-loop MIMO scheme with reduced overhead and complexity, mobile relays that can provide group mobility, improved eICIC techniques that can mitigate the residual interference in ABS, and efficient feedback mechanism and codebook design for CoMP operation.
Declarations
Acknowledgements
This work was supported in part by the Human Resources Development of the Korea Institute of Energy Technology Evaluation and Planning (KETEP) grant funded by the Korea government Ministry of Knowledge Economy (No. 20114010203110), and in part by the National Research Foundation of Korea (NRF) grant funded by the Korea government (MEST) (No. 2009-0085604).
Authors' Affiliations
(1)
School of Electronic Engineering, Soongsil University, Seoul, Korea
Copyright
© Tran et al; licensee Springer. 2012
This article is published under license to BioMed Central Ltd. This is an Open Access article distributed under the terms of the Creative Commons Attribution License (http://creativecommons.org/licenses/by/2.0), which permits unrestricted use, distribution, and reproduction in any medium, provided the original work is properly cited.